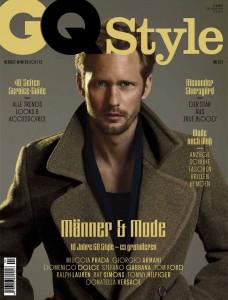 True Blood fans of HBO's viking vampire Eric Northman are in for a treat with this video!  Alexander Skarsgård shows us how a photoshoot is done when he sits for GQ Style Germany.  He graces the cover of the Autumn/Winter 2011-2012 issue.
Just be warned that there are no English subtitles in this video, but then again, do we care?  The only dialog is a bit at the very beginning, where we get to hear the sexy son of a gun speak in German.  Oh, to be a fly on that wall!  The resulting photographs are perfection.  Grab something to fan yourselves with, we'll wait…
Now watch the video and let us know what you think!
Source: GQ Germany YouTube Channel - GQ STYLE Coverstar Alexander Skarsgård
(Photo Credit: GQ Style Germany)