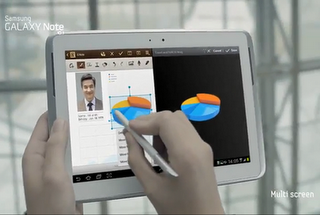 Galaxy Note 10.1 

seems to be getting closer to release date, seen now from a commercial video that appears. 

Video uploaded on YouTube

 which uploaded by a modeling agency, Step Management, which shows how the Note 10.1 is used to support activities in a business environment.
Unfortunately, although showing various features of the video is not providing good information leaked about the price or release date as well as final specifications. 

30-second video also shows the usefulness of S-Pen where the Galaxy Note 10.1 is also used to use to sign the contract, the application helps multitasking called Multiscreen, etc..
Video appears to have been removed by the user
origin source Electronista