Aside from the growing list of world leaders who will not be attending the annual Victory Day celebration on 9 May, and besides the embarrassing breakdown of one of Russia's heralded new generation tanks during a practice run on Red Square, the lead-up to the official day of celebration has been fairly routine.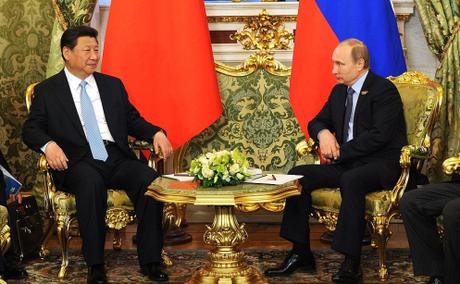 Chinese President Xi Jinping with Russian President Vladimir Putin, Moscow, 8 May 2015.
Of consequence is the fact that Chinese leader Chinese Xi Jinping is the honoured guest this year, a marked change from previous celebrations. Russia and China are cooperating more closely for two simple reasons: China has money to lend, and Russia needs to borrow.
On 8 May, a meeting of the heads of CIS states was held at the Kremlin, and while billed as just an informal gathering, it was anything but informal. In his remarks to those gathered, Russia president Putin accused the West of rewriting the history of the second world war, although he offered no basis for that assertion.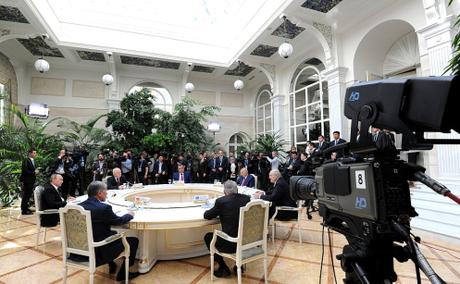 Meeting of CIS states, Moscow Kremlin, 8 May 2015.
This year's president of the CIS is President of Kazakhstan, Nursultan Nazarbayev, who recently won reelection in Kazakhstan. He garnered some 96% of the votes according to the Kazakh Election Commission, and is in reality Kazakhstan's president for life.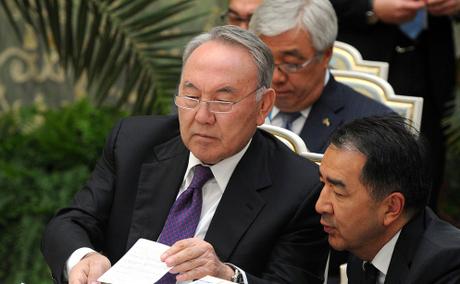 President of Kazakhstan Nursultan Nazarbayev.
During the day, leaders of the Eurasian Economic Union agreed on goals and set a common agenda for 2015–2016. The countries pledged to continue the creation of a common electricity market in the Eurasian Economic Union, and changes to standardize motor trucking services across member states. Members announced a free trade agreement with Vietnam and additional financing contracts for funding from China.
At the close of the meeting, Kyrgyzstan became the latest Eastern nation to join the economic bloc.
Meanwhile Russian Prime Minister Dmitry Medvedev met with several veterans group. He paid a special visit to one veteran, Ilya Kalashnikov Krasnoseltseva. Russia is still fulfilling a decades old promise to provide adequate housing for veterans of the war.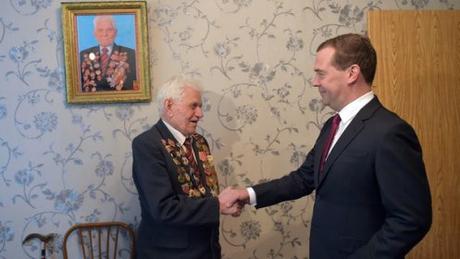 Prime Minister Dmitry Medvedev at the home of veteran Ilya Kalashnikov Krasnoseltseva.
Russia's full celebrating of the 70th anniversary of the end of the war with Nazi Germany will be celebrated on Saturday, 9 May.