Recipe Number One Hundred & Thirty Six:  Page 136.
Here it is; my last Baking Bible Christmas cake! This recipe is graced with a photograph and the cake looks absolutely delicious; it certainly appears to be light and fruity. Judging by the photo and the list of ingredients a slice would certainly provide me with my five a day!
Neil took me on a 'big shop' to get all of the things I need for Christmas. As I am making truffles and fudge for gifts this year, the trolley soon filled up. It definitely wasn't cheap! I think Neil thought it would have been easier and cheaper just to buy everyone a box of Thorntons!! A lot of ingredients are needed for this cake, but this is to be expected for a Christmas cake. I managed to get all that I needed apart from glacé pineapple but, as this was only required for decoration purposes, I didn't think it worth going all the way into town to search the shops!
I have to admit that I found it hard to summon up the energy to make this cake. As with most people at this time of year, we have a lot going on; I am a tad stressed that I'm simply not ready for Christmas!! I was told to write a 'to do' list. Apparently crossing things off when completed would make me feel better. However, I'm not sure it helped my stress levels when I had to reach for a second piece of paper! This cake was at the top of my list so I really couldn't ignore it for long. Thankfully, as soon as I was in the comfort of the kitchen, I felt my enthusiasm flood back and continue to grow as I dug out all the ingredients required. As always, baking soothed my soul and I soon felt a sense of calm, even when I had a battle double lining my cake tin!
First of all I had a lot of fruit to plow through. I was delighted that glacé cherries have such a large role – I don't think I've ever chopped and washed so many in one go. Rather unusually for a Christmas cake, I needed to include a good quantity of pineapple. Mary says to dry the cherries and pineapple on kitchen towel, of which I required copious amounts. Pineapples in particular are juicy little things! Now to move on to the vast quantity of dried apricots; I'm not a big fan of apricots, so I didn't feel tempted to pinch any as I snipped them with scissors. Luckily I enjoy them in cakes! I needed 350g but after 50g I was bored!! After about ten minutes of snipping apricots I breathed a huge sigh of relief when I'd finally completed my mission. Sadly there was little rest as I had to chop up a fair amount of blanched almonds. At first I tried to keep the pieces small but, by the end, they were substantially larger! That was all the rinsing, drying, snipping and chopping done and dusted, hooray! I added a lot of sultanas to the bowl; I really should have chosen a larger bowl as I had a leaning tower of fruit and nuts which was threatening to topple over at any given moment! I gingerly stirred in some grated lemon rind. I was lucky that only the odd sultana and cherry made a successful escape!
Now I could move on to make the cake by adding a whole packet of butter to another bowl along with the caster sugar. I measured in the flour and some ground almonds. I really love the flavor of almonds, especially when combined with cherries. I was surprised that I should need five eggs; it seemed such a lot, I hoped it wasn't a misprint! All that was left to do was give it a good old whisk and then stir in the mountain of fruit. I have to say it was quite a workout for my flabby little biceps! Once I had spooned all of the cake mixture into my deep cake tin I could decorate it with some whole blanched almonds and glacé cherries. I could quite understand why it would take over two hours to cook as the cake was absolutely massive and was in danger of spilling over the sides of the tin. I placed the heavy tin into the oven, where it would remain for two and a half hours.
The smell that wafted from the kitchen was heavenly and I was quite impatient for it to be ready so that I could have a taste! Finally I could collect the fruit laden cake from the oven; it looked so good that my mouth was soon watering. I left the cake to cool in the tin for the suggested half hour and then tipped it out to cool completely on a wire rack.
Neil was most impressed by the appearance of the cake and even more so by the taste. He thought it to be a deliciously sweet, moist and fruity cake. He really was very taken with it! I prefer my Christmas cakes to be rich and dark but this did make for a nice change. I still can't get over the volume of fruit it contains. The Victorians obviously enjoyed the finer things in life as this really is rather decadent!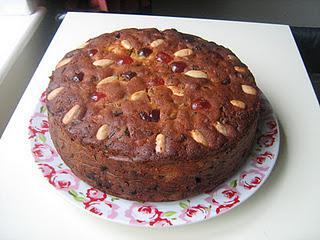 Big Fat Christmas Cake!!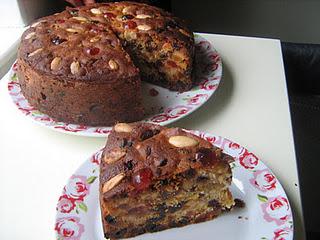 Anyone for a fruity slice of cake?!?