I have to confess to having a bit of a girl crush on cyclist Victoria Pendleton, having met her at a book event today. Witty, self-deprecating, engaging, glamorous, beautiful (and wearing extraordinary over-the-knee boots)… she's TOTALLY my kind of athlete. Which is why it was so thrilling to hear her say that if she could try her hand at another sport she wouldn't mind having a go at lightweight rowing.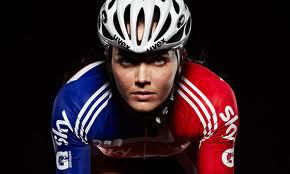 Who wouldn't want this girl in their boat?
She is, of course, made for rowing. She's fit, she's feisty, she's fierce, she's fabulous and she's funny (that last one absolutely essential). So if the dancing doesn't work out (and she admitted herself it hadn't exactly come naturally), there's a place in our novice 8+ just waiting for her. I may even, getting carried away as usual, have said this to her.
So, you heard it here first. Look out for Victoria at Nat Champs in the next year or so. She might not actually be rowing with Monmouth RC, but you can bet that we'll be cheering her on.