Every TripAdvisor review raves about the Victoria Angkor hotel, and I'm about to do the same.  Victoria Angkor hotel and spa is most definitely one of the best places to stay in Siem Reap.  The words "luxurious", "relaxing" and "extravagant " furnish the endless pages of the TripAdvisor website, and quite rightly so, but let me add a couple more words to the mix: "safe" and "secure". 
The Victoria Angkor hotel made me feel l ike I was in safe hands.  Everyone was friendly.  Everyone smiled.  Everyone went out of the way to help us.  And as cheesy as this sounds, I really think that it's a part of their wider company philosophy.  Because they care about their country and they're proud of their culture.
Either that or it's damn good marketing. 
My Review of Victoria Angkor Hotel in Siem Reap
4.5 ★star recommendation
Price: a little pricey but worth it!
Location: a really stunning location opposite Royal Park
Service: brilliant service from all the staff

Victoria Angkor hotel, Siem Reap, Cambodia
This French Colonial style replica building may not be the real deal, but the important thing is the atmosphere and they hit the nail on the head with that.  I can't emphasize more how relaxed and safe I felt throughout my stay.  In a country where you're faced with the definition of poverty, the harrowing memories of The Killing Fields, the corruption of the CPP and the heart wrenching reality of child beggars, it was such a release from any sort of worry.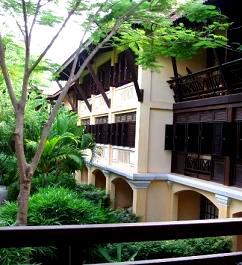 From the moment my tuk tuk pulled up outside, to the moment I opened the door to my room, it was just gorgeous. 
Staying at the Victoria Angkor hotel wasn't cheap but every penny was worth it, and it wasn't the most unreasonably priced five star establishment I've stayed in.  The room was extremely comfortable, the bathroom was spotless (which is very important to me) and the balcony finished off the room just perfectly. 
Hotel facilities:
• A gorgeous saltwater swimming pool with poolside food and drink service
• The Victoria spa center with massage and sauna
• Free internet usage, with WIFI available hotel wide
• Sightseeing tour / flights booking service
• Foreign exchange
• Souvenir gift shop
• Room service and laundry service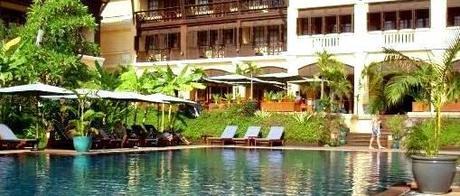 Saltwater pool, Victoria Angkor hotel, Siem Reap
Dining and drinking:
I've always been more of a street food fiend, constantly trying to sniff out local dinner joints, as far away as possible from western faced travellers.  But the food at the Victoria Angkor hotel in Siem Reap is fairly priced and rather delicious.  There's nothing worse than feeling confined in a resort, so I would recommend choosing perhaps just one of the three restaurants and venturing further afield on other nights. 
I dined at the Le Jardin de L'Apsara for the alfresco factor, but if you're looking for French flavours and great wines, choose Bistrot de Siem Reap.  Go to L'Explorateur Bar for after dinner drinks, but last orders are at 11pm so you'll need to head into the center for more action.

Le Jardin de LApsara, Victoria Angkor hotel, Siem Reap
A tuk tuk dropped us off in Siem Reap centre, at the famous Bar Street where Angelina Jolie has been spotted sipping cocktails.  After a night of cocktails in the sweltering evening heat, I felt safe walking back to the hotel – many places were open late into the night, including night pharmacies so it always felt as if though there were people around.  
The location made it very convenient both day and night and I would definitely return to the Victoria Angkor hotel the next time I'm in Siem Reap.