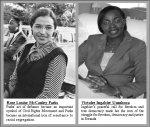 ' Wherever I will fall, those left behind please do carry on from where I will have left,' Victoire Ingabire.
On January 16th, 2010, she lands at the International Airport of Kigali.
Who would have imagined? 
Yes it is 4 years since she has been in Rwanda despite the unfortunate fate which has been hers.
Heroes are people who impact others without necessarily having such intention, but only because their lives translate in ours what we sometimes lack for our own fulfillment as human beings.
Victoire Ingabire has inspired many Rwandans.
The presenter of the online radio Ijwi Rya Rubanda recently explained on his broadcast that he started his radio because of that woman. He wanted to follow in her footsteps and give his contribution to all Rwandans' efforts to the needed change in their country.
I started this blog, among other things because I wanted to track and bring in the eyes of the general public the different steps and perspectives of Victoire Ingabire's political struggle inside Rwanda.
Certainly there are many people, Rwandans and other nationalities that Victoire Ingabire's courage has inspired.
March 2007 is the period of my first encounter with Victoire Ingabire, a mother of three children and a Rwandan politician. She was then living in The Netherlands with her husband and working for an international company.
At that time, she already leads the United Democratic Forces UDF-Inkingi, a coalition of several Rwandan opposition parties, mainly operating from outside the country. Bringing together different political groups and individuals who opposed the Rwandan government led by the Rwandan Patriotic Front has been a long and difficult operation.
Her grouping has a large membership in Rwanda and outside particularly among the exiled Hutu community, spread around the world. Her party had nominated her as its presidential candidate for the 2010 presidential elections in Rwanda. These were scheduled for August 9th.
I am at the time visiting a relative living in The Netherlands. My family member is friend to Victoire's. Over my stay he takes me to see them where they live in a Dutch countryside area. At my arrival to their house, Victoire is not there. We meet her husband. It is on a sunny Saturday afternoon. We sit in the backyard nearly overlooking neighbours' houses. Victoire's husband brings us some drink.
Around 3.00 pm a number of young people start arriving at the house. My relative explains that they are coming to rehearse traditional dances from the Rwandan culture. All the furniture in the sitting room, indeed not very spacious, is put aside to make room for the movements the group consisting of teenage boys and girls would be doing while performing their choreography.
As our small group of men is on a free afternoon of a sunny weekend we are more into drinking and discussing on different topics of interest than dancing. My host and my relative ask me how in England we are politically aware about the situation back home. I explain them that exiled Rwandans living in the United Kingdom are more interested in going on with their new lives than trying to get back to references of their recent past from which most of them were survivors.
Later on Victoire comes back home. Her husband introduces me to her. She explains straightforwardly,
'I was in a meeting of Rwandan women.'
She adds with a tone of pride from someone doing something worthy.
'We were discussing how to support our fellow Rwandan refugees spread all over the world after the 1994 Rwandan genocide, particularly those in the neighboring countries of Rwanda and other parts of Africa.'
The majority of Rwandans who survived their country's civil war did not get opportunities or manage to go as far as Europe or America in their fleeing from what had happened to their nation.
Supposedly the world knows that these survivors of the Rwandan tragedy have gone through so much suffering and their future is still uncertain. In most places, the international community and countries that received them have refused them a permanent refugee status, even many years after staying in those countries.
This has been a consequence of a vicious campaign of demonization of every Hutu person orchestrated by the Rwandan Patriotic Front (RPF) government telling countries they ended up settling in that they should be arrested and prosecuted for having committed the genocide against Tutsi in 1994, all this being only pure propaganda to have any potential or imaginary opponent permanently disempowered.
During the short period I speak to her, Victoire also inquires about how in the UK we are organizing to help our fellow compatriots that everyone had victimized. I repeated then what I had told her husband and my relative. I explained that:
'Rwandan exiles from the country where I found refuge seem trying to forget what has happened to them and wish and pray strongly that RPF campaign of chasing them around the world does not get to them.'
My second encounter with Victoire Ingabire is in September 2009. It is through a video conference. She is speaking from The Netherlands to a group of a few Rwandan friends including myself living in UK.
Her message is about us taking charge of the destiny of our country to end the reign of injustices and sufferings our fellow compatriots had been subjects to since RPF invaded Rwanda in October 1990. RPF fought an atrocious guerrilla war for nearly four years and took power in July 1994 after a horrible genocide which took the lives of more than five hundred thousands of Rwandans.
The last time I saw Victoire Ingabire was on 9th January 2010 in Brussels. It was a farewell event for the team which was meant to accompany her back to Rwanda. Her speech on that day explained the reasons why she was heading home. She galvanized all the participants. I was particularly moved when she highlighted the fact that she was going home to lead a non violent political campaign without any military forces backing her. She was well aware of what might happen to her. Death was part of the possibilities. But she was quick to add,' wherever I will fall, those left behind please do carry on from where I will have left.'

She is in prison since October 14th, 2010. She was sentenced to 15 years of imprisonment on December 13
th
last year. On Monday 29
th
on this month, we are organizing a public protest in front of the Foreign and Commonwealth Office in London to claim injustice she is victim of from the Kagame's regime.
One of the characteristics of heroes is that they give more meaning to people's lives even when they are not around. Their stamp is powerful to the extent that it makes us tick without their presence.