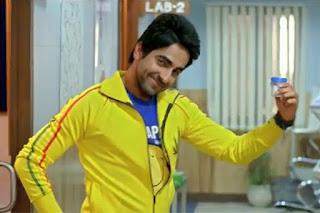 "Sperm se thoda upar akey heart ki socho"
That's Vicky Donor for you. A coming of the age movie from Shoojit Sircar which deals with 2 burning social issues with a comic touch; sperm donation and child adoption.
Vicky Donor centers around the life of Vicky Arora, a young, good looking Punjabi guy from Lajpat Nagar, who happens to be a sperm donor for Dr. Baldev Chaddha, a Doctor who runs an infertility clinic in Delhi. This movie is about how Vicky's the society and Vicky's wife Ashima reacts to his vocation as a sperm donor.
Even though today's society has progressed a lot in terms of its views on sensitive issues like sperm donation, Vicky Donor shows that it still has a long way to go before we can accept a child not born out of consummation of marriage with the same love that we would have given it otherwise. As the quote above points out, we often fail to see beyond a blood relationship and think with our emotions. We fail to realize that the love of and for a child doesn't come from a sperm but from our emotions that we share towards that child. And irrespective of whether a child was born as a consummation of marriage or whether he/she was adopted, its our feelings that makes that child our own and not just a mere sperm.
The movie
Vicky Donor
deals with both these issues with an elan. It was really surprising to see Shoojit Sircar, after giving such a serious movie like Yahaan (2005), come back with a comic movie after 7 years. But nonetheless, he does justice to the story by Juhi Chaturvedi. Ayushmann Khurrana debuts as Vicky Arora, the protagonist of the movie, and goes on to shine in his performance. Yami Gautam, who debuts as Ashima Roy, wife of Vicky, show brilliant acting skills in showing the pangs of a woman who comes to know that she would never be able to become a mother yet cannot come to terms with this bitter truth. The on-screen chemistry shared by Ayushmann and Yami makes the
movie
and the subject more realistic. A special mention is needed for Annu Kapoor as Dr. Baldev Chaddaha. And the best part of the movie is that although the film preaches the topic of sperm donation at no point does the film uses vulgarity or cheap humor to carry it along. The music is very catchy at the least and songs like 'Paani da' and 'Rum whisky' really help to keep up the tempo of the movie. It was another surprise to see John Abraham enter the Producer Town with an off-beat
movie
like Vicky Donor.
The scene where Ashima comes to term with the reality about the fact that Vicky's vocation as a sperm donor was not just about money but something more than that, the fact that Vicky has made it possible for numerous couples to cherish the gift of parenthood was really touching to say the least.
Lastly, I would say that Vicky Donor is just like sperms, tiny but very effective and gives birth to a new idea in
entertainment
. With genuineness in script and rigorous performances by leading actors, Vicky Donor is successful in making a strong ascendancy in small budget
films
. Try not to miss this one.