Red Bull Setting Pace Once Again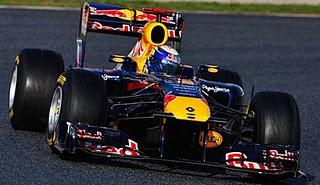 Sebastian Vettel in the Red Bull RB7
on the Barcelona Racetrack
Not surprisingly was it Red Bull again who were quickest around the Curcuit de Catalunya on Wednesday. Already early in the morning Vettel set the fastest time of the day with a 1:21.865, a time which neither of the other drivers came close to for the rest of the day.  This is also the fastest time of the whole pre-season testing in Barcelona, including the one in February.
The only ones within one second were Toro Rosso driver Sebastian Buemi (+0.531) and Vitaly Petrov in his Lotus Renault (+0.805).
Due to an exhaust failure Lewis Hamilton lost part of the morning session. He ended the day in fourth position, more than one second (+1.023) behind Vettel. Massa, di Resta, Kobayashi, Rosberg and Trulli completed the top nine.
Because of a problem with the KERS system, Williams lost most of the day, their driver for today, Pastor Maldonado, was 10th out of 11 drivers, more than 5 seconds behind Vettel. The slowest car on Wednesday was the Virgin, Jerome D'Ambrosio was more than 7 seconds off the pace.
Remember, though, that the lap times throughout testing are not to be taken too seriously, as we do not know about the cars' fuel levels, which of the different types of tyres they were using, whether the tyres were new, whether they were using the KERS system, whether they made use of the adjustable rear wing...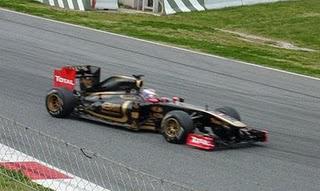 Vitaly Petrov testing his Lotus Renault at the
Circuit de Catalunya on Wednesday
Today, Hispania announced Vitantonoi Liuzzi as their second driver along with Indian Narain Karthikeyan. Austrian driver Christian Klien will not be too happy about this since he was also in the run for the Hispania cockpit.
McLaren will skip tomorrow's testing, they will be back on track the day after tomorrow. Friday will also be the last time for all major title contenders to be testing together, since only Ferrari, McLaren, Mercedes, Williams and Hispania will carry on until Saturday afternoon.
Tomorrow is the third day of the final testing, all teams with the exception of McLaren and Hispania, which do not have their car ready yet, will participate.
Below you find two tables, the first with the result of Wednesday, the second with the results of Tuesday and Wednesday combined.
Wednesday's final results:
Pos.DriverNat.TeamTimeGap
1Sebastian VettelGermanRed Bull1:21.865
2Sebastien BuemiSwissToro Rosso1:22.396+0.531
3Vitaly PetrovRussianLotus Renault1:22.670+0.805
4Lewis HamiltonBritishMcLaren1:22.888+1.023
5Felipe MassaBrazilianFerrari1:23.324+1.459
6Paul di RestaScottishForce India1:24.334+2.469
7Kamui KobayashiJapaneseSauber1:24.436+2.571
8Nico RosbergGermanMercedes1:25.807+3.942
9Jarno TrulliItalianTeam Lotus1:26.090+4.225
10Pastor MaldonadoVenezuelanWilliams1:26.989+5.124
11Jerome D'AmbrosioBelgianVirgin1:28.982+7.117
Tuesday's and Wednesday's combinded results:
Times were set on Wednesday, if not stated otherwise.
Pos.DriverNat.TeamTimeGapDay
1Sebastian VettelGermanRed Bull1:21.865
2Sebastien BuemiSwissToro Rosso1:22.396+0.531
3Mark WebberAustralianRed Bull1:22.544+0.679Tue
4Vitaly PetrovRussianLotus Renault1:22.670+0.805
5Lewis HamiltonBritishMcLaren1:22.888+1.023
6Jenson ButtonBritishMcLaren1:22.910+1.045Tue
7Felipe MassaBrazilianFerrari1:23.324+1.459
8Sergio PerezMexicanSauber1:24.117+2.252Tue
9Paul di RestaScottishForce India1:24.334+2.469
10Kamui KobayashiJapaneseSauber1:24.436+2.571
11Nick HeidfeldGermanLotus Renault1:24.735+2.870Tue

12Davide ValsecchiItalianTeam Lotus1:25.406+3.541Tue
13Nico RosbergGermanMercedes1:25.807+3.942

14Nico H체lkenbergGermanForce India1:26.030+4.165Tue
15Jarno TrulliItalianTeam Lotus1:26.090+4.225
16Luiz RaziaBrazilianTeam Lotus1:26.723+4.858Tue
17Pastor MaldonadoVenezuelanWilliams1:26.989+5.124
18Jerome D'AmbrosioBelgianVirgin1:28.982+7.117