I'm the kind of person who likes to think they are super organised, but there is always someone I end up missing out, so not only do I feel guilty as hell but I then have to rush around trying to find something for them! Luckily you don't need to leave the house today if you're in the same boat as me, but head on over to Harrods website and order before 1pm for guaranteed next day delivery! With loads and loads of last minute offers too, from all ages, you will find something for everyone you need! 
When I was younger, my favorite gifts were teddies, I think I was about 5 when I started collecting them actually, my Nan would buy me all the special edition toys from the department stores, and they were always so fluffy and soft! This year Abbie has started off her collection by very kindly being sent the newest bear from the Harrods range! A gorgeously snuggly white bear, complete with festive christmas cardigan, Abbie has been carrying it with her to bed some evenings and setting him down next to her, complete with a blanket too! He almost ventured into the bath at one point too, but we managed to just save him in time, phew! 
Without further ado, below are my top picks from the website for last minute presents!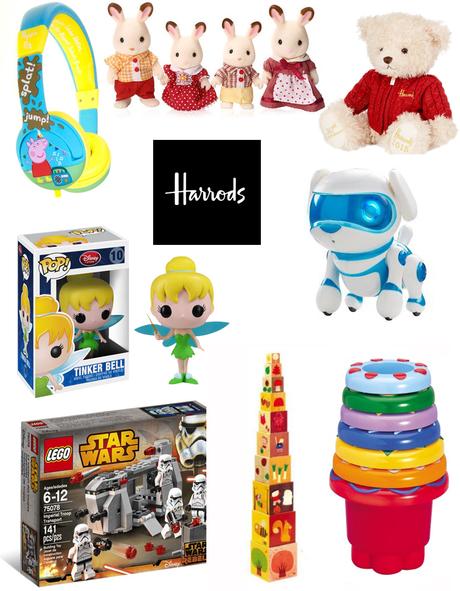 Order by 1pm today for next day delivery, just in time for Christmas!
Harrods 30th Anniversary Christmas Bear
Meet Benedict, the Harrods 2015 Christmas bear. Back from his annual round-the-world trip, this furry fellow can't wait to celebrate the most wonderful time of the year. Dressed in his red knitted cardigan, Benedict loves nothing more than spreading festive cheer with kindness and cuddles!
Peppa Pig Headphones
Perfect for the little ones, they will keep them occupied for ages whilst giving the parents a little break too (you're welcome!), headphones are a more grown up present so they'll probably feel like a big girl or boy too, always cute to see their little faces when they're proud! There are also other brands such as spiderman, star wars and Disney princesses if you want a different design!
Stacking Blocks and Cups
Always a firm favorite with the younger ones, with bright colours, funky patterns and adorable designs, your LO will have endless fun creating their biggest tower over and over again! 
Star Wars Troop Transport
With the new Star Wars movie just being released, these are flying off the shelves! With 141 pieces for your munchkins to design and build, this will no doubt keep them occupied on Christmas day! Follow the instructions or let their imagination run wild by creating their own vehicle, and when the kids go to bed? Mum and Dad can have a go too!
Sylvanian Families
I always always wanted the whole shenanigans when it came to Sylvanian families, from the animals to the houses to all the accessories! There is so much you can collect and are a great toy for the littlest of imaginations! With adorable hand stitched vintage clothes and even dapper little hats, Abbie's favorite part is undressing them all and redressing them again!
If you still can't find anything to suit you, why not order a gift card instead? That way they will be getting something they really love and want!
For more last minute christmas ideas that can will be delivered before the big day, head on over to the shops below!
Morrisons
Walk
Not on the High Street (check each seller first)
Debenhams
Amazon
Toys R Us
Argos
Very
Happy Christmas all! :)
x