Recipe Number One Hundred & Sixty Five:  Page 105.
As I edge ever closer to the end of this challenge, the choice for my weekly Facebook Poll is becoming increasing limited. This week it took me an age to choose three recipes to put up for the Tuesday vote. After finally selecting the three recipes I watched the votes roll in. I should have guessed that anything chocolaty would race to an easy victory. It was a foregone conclusion within minutes; we are obviously a nation of chocoholics!
Almost as soon as I'd rolled out of bed I knew it was going to be one of those days. You know the ones where absolutely nothing goes right. It was a day in which it would have been far safer to have simply stayed in bed and pulled the duvet up over my head!! I just couldn't put a foot right. It didn't help that Isaac was uncharacteristically grumpy first thing in the morning. I hoped our daily trip to the park might help blow away the cobwebs and cheer us both up! It seemed to do the trick; Isaac enjoyed the swings and was soon his usual cheerful self. This in turn lifted my spirits. On the way home we popped into the shop. I was by now feeling so much happier and felt that perhaps the day could be saved. However, things soon took a nose dive! When I placed my shopping basket on the counter, it ever so lightly tapped a large display of Easter eggs. The whole lot cascaded and fell in what appeared to be slow motion. I felt my cheeks glow red as I hurriedly tried to rearrange the display. The cashier didn't utter a single word or even offer a reassuring smile; this made me all the more flustered!
By the time we returned home Isaac was in fine spirits while I couldn't help feeling a little deflated. If I had any sense I would have realised that attempting to bake when not in a happy disposition isn't always the best of ideas. Obviously I do not possess much sense, as I still went into the kitchen to make the cake. My reasoning was that a big slice of chocolate cake might be just the ticket to cheer me up!
The recipe did seem to be very simple and straightforward to follow, thank goodness! First of all I sifted some cocoa powder into a mixing bowl, then poured in a little boiling water and gave it a good mix. It looked and smelt so tempting! I felt like sticking my head straight into the bowl and forgetting all about the cake!!! Of course I controlled my greedy urges and carried on stirring the mixture until it had formed a smooth chocolaty paste. Next, it was time to include the rest of the ingredients. I added several eggs, tipped in some self-raising flour and weighed in the butter. I had expected to use a lot more butter; the amount needed was surprisingly small. Just as I was contemplating how this cake might not be so fattening after all, my eyes caught sight of the quantity of sugar needed. It was nearly three times the amount of butter - eeek!
Once all the ingredients were in the bowl I could set about mixing it all together with my trusty electric whisk. It didn't take too long before the mixture was smooth. As I spooned it into the lined sandwich tins, I couldn't get over how light it appeared to be; it was just like a mousse. The cakes cooked for just under half an hour. By the time I'd taken Isaac up to bed it was time to extract the tins from the oven. I let the cakes cool in their tins for just a few minutes and then tipped them out onto a wire rack to cool completely. They looked very yummy and also very moist. It was torture having to wait to ice them!
Once the cakes were cold I heated a little apricot jam and brushed it over the top of each of them. Next, it was time to move on to the chocolate icing. I was delighted and relieved not to be using icing sugar for this recipe. At least this would make things less messy. I placed the chocolate and double cream into a glass bowl set above a saucepan of simmering water. Any hope that I could eat a slice of this cake without guilt had by now vanished. Double cream AND chocolate do not equal low fat!! I left the artery clogging mixture over the heat for about ten minutes, offering an occasional stir. Once the chocolate had melted I left it to cool until almost set. As I spooned the icing on to both halves of cake I couldn't help noticing that something didn't look quite right. It wasn't until I'd finished that I realised what was wrong. The icing had split, sob! It looked oily and unappetising. I had a little taste; thankfully it tasted fine but I wasn't happy! I scraped off all the ugly icing and decided to try again. This time I tried another method. First I heated the cream, took it off the heat and then added in the chopped chocolate. I felt sure of success! It split AGAIN! I decided it must be the chocolate that was to blame. I'd never used it before and I don't think I shall be buying it again! I've since heard from a very reliable source that, if a chocolate has a high fat content, it can split when heated.
I couldn't help feeling sad as I spread the unattractive icing over the cakes. I'd been so looking forward to trying this recipe and was really annoyed that it wasn't up to scratch! I took a step back to look at my poor battered cake. It certainly hadn't taken kindly to all this poor treatment. Icing had dripped down the sides and bits of sponge had broken off! Hey ho, maybe the taste would make up for the appearance. I cut a generous slice and quickly shoved it on to a plate before taking a quick photo. I was too impatient to look for a fork. Luckily no one was around to witness me messily scoffing the cake!! I was smothered!
Despite the chocolate icing saga this cake turned out to be worth all the stress! It was utterly delicious. Mary promises at the beginning of this recipe that it will become our most favorite chocolate cake. Well, I think I might just have to agree. It is moist, very chocolaty and very light. It almost melted in my mouth. This cake certainly brightened my day. I'm glad I chose to ignore my common sense and make it! However, next time I will have to use a chocolate I know and trust and hope to avoid any more dramas!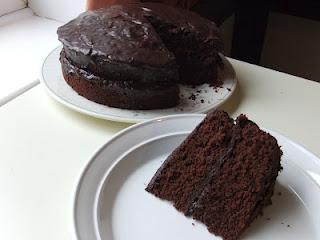 A messy but delicious cake!!