I love to walk around a garden and brush the leaves of plants that I know are scented to release their powerful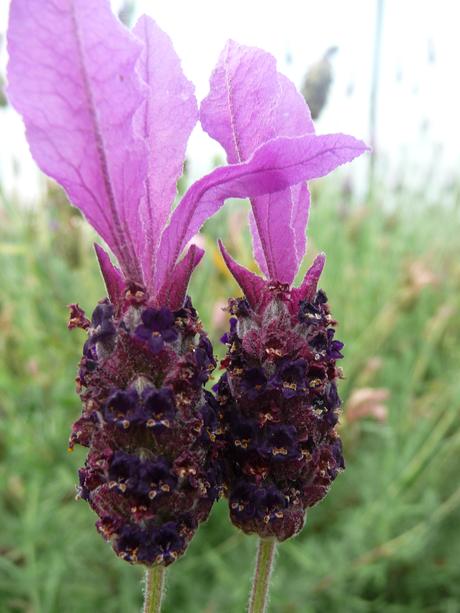 aromas. 
Some, such as Curry Plant (Helichrysum) need no encouragement - their scent is detectable from a long distance away and is said to deter cats - but Cotton Lavender needs to be brushed to release the medicinal fragrance. Sprigs of this bushy evergreen were strewn on the ground in Tudor times to mask bad odours! In the garden, this lovely shrub will make a tidy mound of leaves topped with yellow button-like flowers in early summer. Santolina virens is my favorite with fresh green leaves that make a pleasing contrast to the flowers. The silver leaves of S. chamaecyparis are a great feature through the year but I think that they clash somewhat with the citrus blooms.
I can never resist stroking the leaves of Lavender and to me the French Lavender (Lavandula stoechas) has a much stronger scent than the English varieties. French Lavender grows into a bigger plant by far and the curious flowers are produced on wiry stems - tiny specks of black, topped by plumes of various colours – either pink mauve or white depending on the variety. These plumes flag the flowers to passing bees who adore them as much as English Lavender. English Lavender is a beautiful plant to grow as a low hedge in a sunny spot and very free draining soil. Clipping the plants to remove the faded flowers in late summer will keep them in shape but some of the blooms should be collected fresh and used to make scrumptious Lavender biscuits – an impressive but easy addition to the tea table!
Rosemary is another herb with a lovely fragrance to the needle-like leaves and the plant is a lover of sunny, dry conditions. The ground covering varieties are excellent in coastal locations and when grown to tumble down a wall or to cover a free draining bank. The blue flowers are on the plants for months from late spring onwards depending on the variety chosen and area another magnet for bees and butterflies. Like Lavender, the taller growing varieties such as R. 'Miss Jessopp's Upright' make a lovely hedge kept clipped in late summer to prevent the plants from turning 'woody'. In the kitchen, I like to use Rosemary with roasted new potatoes and garlic as well as with lamb. 
Thyme is another favorite herb of mine and is a great addition to the front of a sunny border where it will spread to soften a path edge or grow between paving stones to create a mat of scented leaves and tiny pink or mauve flowers in summer. Fantastic thrown into the roasting dish with freshly pulled carrots and beetroot or even Parsnips in the winter months I would not be without it and the bees would agree through the summer when they love to feast on the flowers! 
Marjoram has the Latin name of Origanum and there is much confusion over this as both names are available as jars of dried herbs in supermarkets. Origanum marjorana is Marjoram and the flavor is sweeter and less pungent than Oregano which is sometimes called the 'Pizza Herb'. Origanum are one of the easiest herbs to grow and seed around our garden in sun or shade and any soil. We even have the Golden Marjoram (O. vulgare 'Aureum') at the front of a shady border in heavy clay, where it has grown along with Ginger Mint for many years! Mint is another subject with wise gardeners confining 'Garden Mint' (Mentha spicata) to an old tin bath or terracotta pot so that the roots do not take over the whole garden! There are plenty of other sorts – all deliciously scented when the leaves are rubbed and fit for a myriad of uses in the kitchen. From Chocolate Peppermint to Basil Mint and Strawberry Mint my culinary imagination runs wild with ideas of how to make the most of these, some of the most useful of herbs. Along with Borage flowers I will certainly be adding a sprig or two to my summer drinks this year!