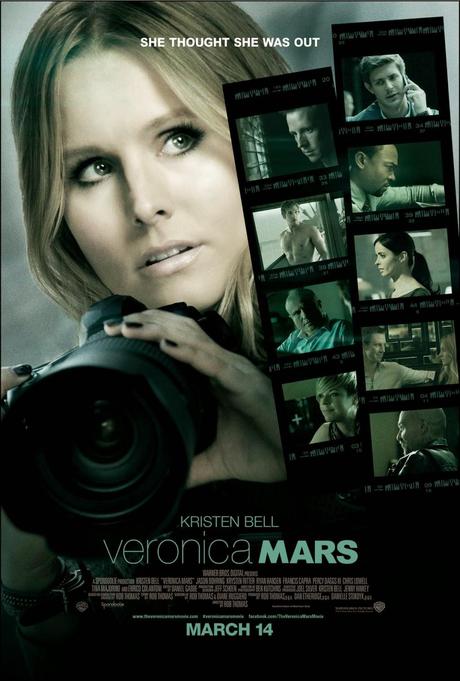 Watching Veronica Mars without having seen the series it is based on is like going to a party with a friend where no one else knows you. You might have fun, but nevertheless you will remain an outsider with most conversations and inside jokes going over your head.
A quick montage at the beginning of the film informs that Veronica is an ex-teen detective with a knack for solving cases and getting into trouble, both personal and professional, who over the past decade has matured into a young lady living in New York with her boyfriend and getting ready to start a career in law. A call from her "famous" ex-boyfriend, accused for murdering his on and off girlfriend, a famous singer also from the same school, takes Veronica back to Neptune, California, her hometown.
The entire film lies heavily on the shoulders of Kristen Bell playing Veronica Mars, and she doesn't disappoint. She comes across as very likeable and overshadows everyone else so much so much so that I am now contemplating watching the TV series. Veronica Mars' character is charming and her quick wittedness, even though it is very subtle, stands apart in a league of its own. Unfortunately, everything else is pretty mediocre, be it the support cast or the murder mystery that she is trying to solve. Once again having background knowledge about the TV series does go a long way because watching the film without prior knowledge of Veronica's romantic past and her strong character traits, her decisions in these areas seem a bit shallow and confusing.
The other disappointment in the film is that even though it is packed with some great supporting cast member like Krysten Ritter, Jerry O'Connell, Ryan Hansen, Enrico Colantoni, and Jamie Lee Custis, they all play second fiddle to Veronica's character and aren't given roles that are meaty enough to draw the best out of them.  
Veronica Mars, the movie, gets a pretty solid rating from my side because as mentioned above the title character has a certain panache that is extremely attractive and the film on the whole works perfectly as a light hearted whodunit. But, I fear that for most who are watching the film without having seen the TV series and especially those that are not fans of the TV series, the film will hold very little interest.
Rating 4/5 (but if I were to exclude my liking for the title character it would be 2.5/5)