Peter & I are using up our aubergines & the last of our home-grown courgettes too.  My only aubergine plant is still producing many aubergines in our plastic conservatory. Since 2 weeks, we close it during the day & at night. This way, the temperature is much higher in there. There are still many chilli peppers aka Rokita, growing.
A few days ago, I made this delicious easy vegetarian dinner: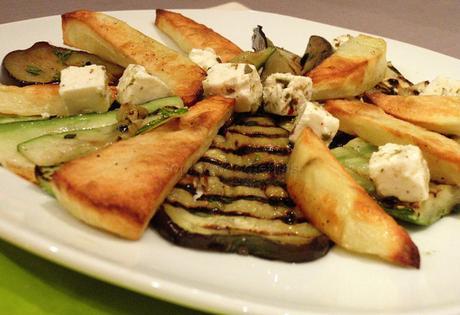 MMM!
It is an easy dish to make & to gobble it all up too! I marinated my sliced courgettes & aubergines with lemon thyme, cut up garlic, a fruity extra virgin olive oil, black pepper & pink salt. Then, I grilled them. I served them with marinated feta chunks & made a lovely easy lemon thyme dressing to go with it! Yum Yum!
This is the dish before adding the oven roasted potato fries!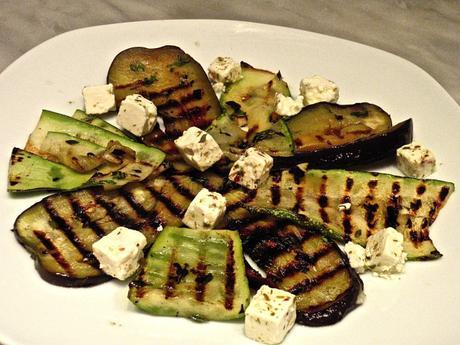 Let's see how I made it all!
Recipe: For 2 persons
Ingredients:
For the grilled courgettes & aubergines:
2 medium courgettes, cleaned, thinly sliced
2 medium aubergines, cleaned, thinly sliced
2 tablespoons chopped lemon thyme, no big stalks, please!
3 fat cloves of garlic, peeled  finely chopped
a fruity extra virgin olive oil
black pepper
pink salt in a grinder
For the oven roasted potato fries:
4 white potatoes, peeled & cut up into thicker fries
black pepper
pink salt in a grinder
that same fruity evoo, as used above
For the feta:
marinated feta chunks, drained
For the lemon thyme dressing:
6 tablespoons of that same fruity extra virgin olive oil
2 tablespoons fresh lemon juice
1 tablespoon chopped lemon thyme
black pepper
pink salt in a grinder
Method:
Marinate the sliced courgettes & aubergines for about 2 hours. About 40 minutes before dinner, preheat your oven to 200°C ( 400 F) for 10 minutes. In a fitted oven dish, arrange your potato fries. Scatter 5 grins of black pepper & 5 grins of pink salt over it. Drizzle about 6 drizzles of that fruity oil over them. with clean hands, mingle everything together & roast for about 25-30 minutes into the hot oven.

Heat up onto high heat your grill pan. When hot, brush your slices with the same marinade on one side & place them onto the hot grill. With a fork, push the slices onto the hot grill. Grill them for a few minutes & then brush this upper side with the marinade & turn them over to grill the other side. This side only takes a minute or 2. Place them onto a big plate layered with double kitchen paper to dip off the excess of oil. Place another big plate over it to keep warm. It will look something like this:
3. While the potato fries are in the oven & your grilling is nearly ending, make your easy dressing! Take a jam pot with fitted lid & add all ingredients for your       dressing in it. Screw lid on & shake your jam pot up & down for a few times. This way, your dressing is well mixed. Taste! You must taste the lemon & the chopped thyme! Yum yum!
4. Plate up, like photo above & just before serving, drizzle a  bit of the yummy dressing all over your dish, in a circle! MMMMM! This is lovely enjoyed with a crisp white wine, like this one 2009 Jacob's Creek Riesling Reserve, South Australia. A perfect partner! Enjoy, sweeties! xxx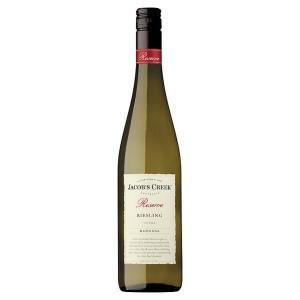 ♥  Stay Tuned! If you liked this post & want more of them, join 1,750 email followers! Subscribe by email! It is free!
Follow Blog via Email
Enter your email address to follow this blog and receive notifications of new posts by email.
Sophie's Foodie Files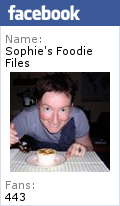 Tagged: Gardening, Salads, Vegetarian