The last few days, I have made a lot of tofu scrambles! Why? They are very easy to make, you can add whatever you want & you can eat this lovely delicious breakfast any time of day!
Check it out: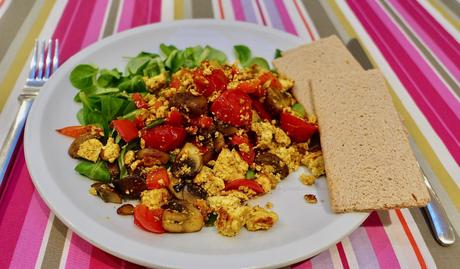 Colour in your morning plate! That is what I want!

And because it is very delicious too!

Recipe: For 1 person
Ingredients:
100 gr firm tofu, drained, pad dry on double kitchen paper & pressed for 10 minutes, crumbled with your hands
6 chestnut mushrooms, cleaned & each cut up into 2 or 4
1 big spring onion, cleaned, cut up into rings
a big handful fresh lamb's lettuce, cleaned
1/2 red bell pepper, cleaned, white bits & seeds removed, cut up into smaller strips
6 cherry tomatoes, halved
black pepper
Herbamare salt
Curcuma (turmeric)
1 tablespoon of a peppery extra virgin  olive oil
Method:
Heat non-stick pan on high heat. Add 1 tablespoon of oil. Swirl around the pan. Add chopped mushrooms, spring onion, red strips & crumbled tofu. Add 1/4 teaspoon of ground Curcuma, some Herbamare salt & some grins of black pepper. Stir fry for about 5 minutes or until cooked through. Now, add your chopped cherry tomatoes. Fry for another 3 minutes or so.
Plate up. Place your lamb's lettuce on one half side of your plate. Place your scrambled tofu veggie mix onto it & serve at once with 3 gluten-free chestnut crackers! You don't need any margarine on your crackers at all! MMM!