One of the challenges facing many of us nowadays is how to fit all that we want into our smaller gardens.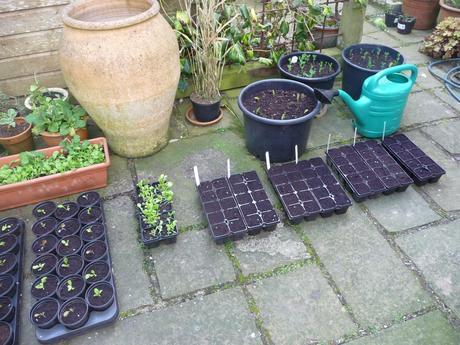 Because of this, vegetables are often overlooked as taking up too much room and fit only for large gardens or allotments. The attraction of growing your own is strong for many of us but time and lack of space often limit our ambitions!  But there is room for vegetables in the smallest of spaces. Take a look at that sunny fence or the side of your garden shed. In a sheltered spot, you can harness the sunlight and warmth to raise tomatoes, peppers or chillies in a growing bag or pots. And that trellis that divides a sunny sitting area from another piece of the garden is just the place for some runner or climbing French beans later in the season. Compost heaps are the ideal environment for a courgette plant – and after all, one is usually enough to keep a family going or to make plenty of chutney! The big empty pots that are lurking in the garden shed or garage can be put to use over the next few weeks as well. A visit to
Notcutts
will reveal a tempting selection of vegetable seeds especially bred for container growing. Even a few potatoes can be planted in a large pot or dustbin for a delicious taste of waxy tubers in late June, lightly boiled and served, skins still on, with butter melted over.  Choose a sunny, sheltered site for your containers and fill them with a good quality general purpose compost mixed with homemade compost if you have it.  Sow the seeds of salad leaves such as rocket, mustard and lambs lettuce, along with radish, carrots, spring onions and beetroot directly into the pots once the soil has warmed up or start the containers off in a cold greenhouse. For best results, sow one variety to a container as the seeds will germinate and be ready to harvest at different times. Loose leaved lettuce can be sown in modules or seed trays and planted out into bigger pots when they are large enough to handle. Peas and Broad beans are very hardy and can be sown now, directly into the pots. They should begin to emerge in ten to fourteen days time but watch out for mice which will eat the seeds! Try Broad Bean 'The Sutton' a dwarf variety that has stood the test of time and will give a tasty crop of beans over several weeks.  Mange Tout or Sugar Snap peas are a good bet for containers because they will crop prolifically. Remember to stake the plants as the seedlings emerge, using twiggy branches so that they can twine and climb – this will make them much easier to pick and increase the yield.  Runner beans and climbing French beans can also be grown successfully in large containers but will need to be staked using bamboo canes and given plenty of water – a can full each day is not unusual in dry weather, when the plants are established and flowering.   As with all vegetable gardening, it is best to start off small and add more containers as you feel that you can cope with them. As well as using good quality compost for planting and fresh seed from unopened packets for the best results, remember to feed your containers once a week with a liquid feed added to your watering can.
Notcutts
Pour and Feed tomato feed or Miracle Grow Your Own liquid feed are ideal for this.  Who knows? When the container grown vegetables begin to take over your garden you may feel ready to start with an allotment!