Hello!
Hope you all had a wonderful Christmas! Pretty sure i've set myself up to never be hungry again after the past few days..anyone else?
For the past year i've been dipping in and out of being Vegan, i've thoroughly enjoyed trying out alternatives for some of my usual favourites foods, some have been amazing, some not so much, but it's all been trial and error! But with Veganuary coming up in a few days I wanted to dive in and just go for it properly now, to be honest the only thing i'm going to really miss is the cheese, but with some yummy alternatives i've found like cashew cheese (seriously, incredible), I no longer have the excuse! Ive loved reading about all the new vegan options in supermarkets over the past few months, I know from past personal experience of seeing any kind of "fad", people tend to roll their eyes and make some sort of negative comment (I was one of those people). The main reason for doing this really is for myself, I've never been the biggest dairy products fan anyway, and I became a Vegetarian a couple of years ago now too and never went back. I won't be one of those who preaches my lifestyle and tries to make everyone join me, because that's really not my way, plus Veganism really isn't for everyone either! I also don't agree with the way in which the animals are treated, sure it's not every dairy farmer, granted, but still the whole system just isn't something I feel comfortable with anymore.
I'll be documenting some of my meals across the week until the end of the month, just to give an idea of what I'll be preparing and cooking, as well as some of my favorite sweet treats i've tried and tested throughout this year, just a little side note, vegan ice cream seriously IS better than any dairy ice cream i've ever eaten, and I was the biggest Ben & Jerry's fan there ever was!
Hope you all have a wonderful start to the new year, have you made any resolutions? I have a whole bunch! Will probably share those in another post! If you're interested in starting your journey, even if you just try it for a few weeks and decide it's not for you, why not give it a go anyway! Click here for all the information you need!
For now i'll leave you with some of the amazing meals i've tried over the year out and about, along with where and what's inside! Hope you have a fab evening tomorrow celebrating the new year, i'm definitely back to blogging now (she says for the third time this year), but it's one of my resolutions so i'm determined!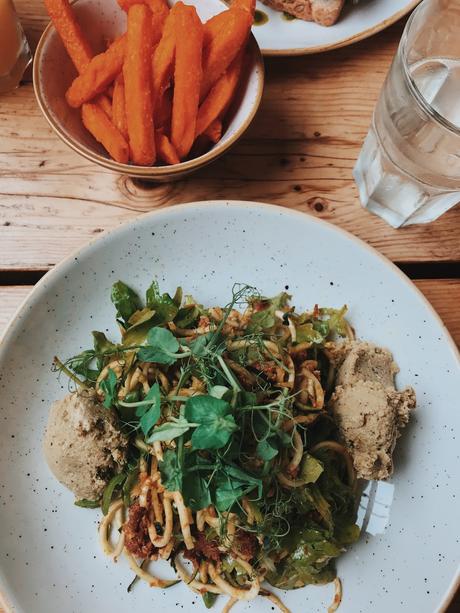 THIS was one of the best vegan meals I've ever had. I came to the award winning Green Rocket Cafe for my birthday this year and their menu never fails to amaze me, I've tried a range of different things but this was easily my favorite. Not only do they offer vegan options, but can cater for a range of different dietary requirements, oh and don't leave without at least admiring their beautiful homemade vegan cakes on the main desk!
What is it?
Raw Courgette Spaghetti Bolognese Salad with a marinated walnut and sundried tomato sauce with cherry tomatoes, chopped olives and either marinated tofu, feta, cashew cheese or Halloumi.
It was my first time ever trying cashew cheese and I wasn't convinced just looking at it, but oh my goodness, it was dreamy, nothing like I imagined it would taste like, it's quite grainy, but packed full of so much flavour, it's since became my favorite cheese and my go to option when I'm craving my usual cheddar! Although the cheese was the star of the show, the entire meal was divine, I destroyed the entire thing, and half the sweet potato fries AND a slice of chocolate orange torte! (What? It was my Birthday!). For the full menu, click here and have a little nosey!
My second favorite meal from Green Rocket is their incredible Vegan Roast Dinner, it is BY FAR, the best roast dinner i've ever had, i've since taken friends and family there who have all been in complete awe (even non-veggie friends). The meal consists of a super nutty nut roast, perfectly seasoned and packed full of so many different flavours, parsnips, carrots, kale, cabbage, roast potatoes, homemade cranberry sauce and a little sprig of chive for decoration on top, the gravy that comes with it is thin and has elements of every part of this dinner combined, it is so filling and so pretty to look at too, if you've never tried a vegan roast dinner before, please go here, it will not let you down!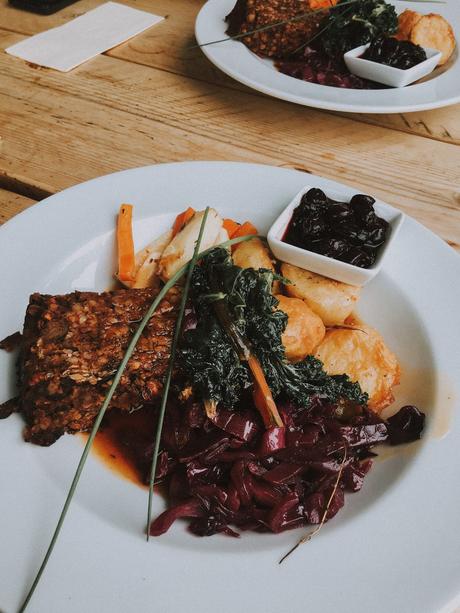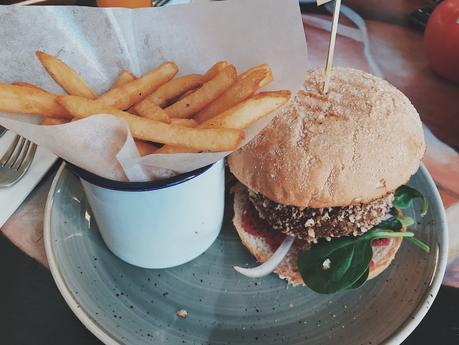 The first time I tried this burger I was over in Dorset, The Lounges are a "cool" (feel like i'm too old to use that word nowadays), chain of restaurants across the UK, with quirky interior style, mismatched furniture and a whole array of artwork on the walls, the menu's are amazing, with a regular menu, gluten-free and vegan menu, there's something for everyone. I've been in there for breakfast and for lunch, both of which have been just delicious!
Obviously my favorite item is this incredible Sweet Potato & Falafel burger, with red onion, beetroot hummus, spinach, tomato & gherkins in a sourdough bun, served with fries & vegan slaw! This entire meal is so flavoursome, so colourful and actually pretty darn good for you! The prices for everything on their menu are so reasonable, i'll admit that eating out when you're vegan/vegetarian can be pricier, but this is actually cheaper than the regular burger on the menu, so well done The Lounges! I'm lucky to have one fo these just down the road from me, although also dangerous because I just want to go in and eat this everrrry time! For a full look at all their wonderful menus, click here!
Who said Vegan food was dull and boring? :)