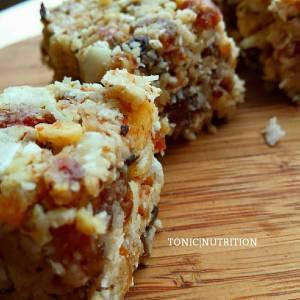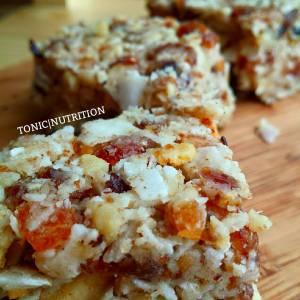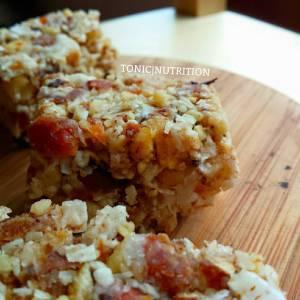 Ermmmm. Let's just take a moment to bask in the glory of these lemon coconut crunch bars. 😍 heaven. And raw too 👊
These are right up my street. I make all sorts for Mr. Tonic and the boys but I rarely eat any because even without any sugar, I just find things like that too sweet these days.
But these…oohhh THESE 😋
Lemony, crunchy, a little sweet but salty too. I made them into bars and saved some to have as raw granola. You could also use this as raw crumble topping over some fresh raspberries.
150g soft dates (I use Whitworths. Most supermarkets stock them in the baking aisle already bagged)
1 handful walnuts
1 cup desiccated coconut
2 or 3 tsp lemon essence
Pinch sea salt
Blend everything together. Next add:
1 handful organic no added sugar banana chips
2 handfuls trail mix
Half cup coconut oil (or more if needed)
Pulse everything roughly together. Press very firmly into a lined tin and refrigerate for an hour. Turn out and slice up. You could roll them into bliss balls – they may hold together better in balls rather than slices if your mix is quite chunky. Alternatively keep in a jar or tupperware if you want to use it as granola.
You're welcome! 😘