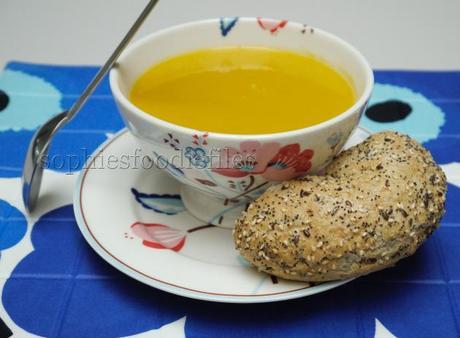 Yum yum yum!
Today, I made this fabulous, easy to make Seasonal Kicked up pumpkin soup to nourish me!  A while ago, I received a big fresh pumpkin  & a big yellow courgette from our friends who have an allotment! We were happy receivers! I used dried chili peppers, that I grew myself! ;) This soup is so smooth, because of my beloved Vitamix & so kicking too, just right!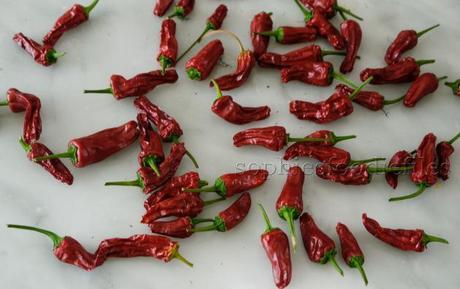 Dried red Padron chili peppers!
Recipe: For 2000 ml of silky smooth soup!
Ingredients:
550 gr peeled, seeds & mellow stuff removed, cut into cubes fresh pumpkin ( weighted when cut up & peeled )
420 gr yellow courgettes, cleaned, cut up into chunks
1 medium white onion, peeled & cut up
2 fat cloves of garlic, peeled & cut up
1/2 teaspoon of dulce smoked paprika
2 dried chili peppers ( stems removed & cut up ) / I used dried home-grown red chili peppers de padrón!
a fruity evoo
a few dashes of Maldon sea salt
1 liter hot vegan gluten-free stock
10 grins of black pepper
Method:
1. Take a larger cooking pot & heat up on medium-high. When hot, add a few drizzles of that fruity evoo. When sizzling, add cut up onion & garlic. Season with some sea salt & 5 grins of black pepper. Stir often. Add cut up courgette & pumpkin cubes. Add 10 grins of black pepper & cut up dried chili peppers. Stir often. Fry your courgette & pumpkin pieces for a while, like 5 to 7 minutes. Reduce the heat if you need to. Now, pour hot vegan gluten-free stock over it all & stir everything round into the pot. Cook with a lid on for about 8 minutes or until your veggies are cooked through.
2. Laddle your soup into 2 batches into your Vitamix & place the  tamper in it too! Be careful, the soup will be extremely hot!!! Blend until completely smooth. Pour the blended soup into another clean pot & do the same with the rest of the soup. Combine the 2 mixed soups. Taste. The soup was very smooth, nice color & an added kick at the back of your mouth,…That is what you want!
3. Laddle your soup into lovely soup bowls & enjoy just like that or with a baguette smeared with vegan butter on the side! Yum Yum yummy! :)
Stay Tuned! If you liked this post & want more of them, join 954 email followers! Subscribe by email! It is free! 
Follow Blog via Email
Enter your email address to follow this blog and receive notifications of new posts by email.
Follow me on Facebook too! :)
Sophies Foodie Files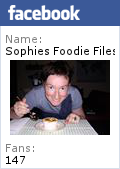 Filed under: Dairy - Free, Egg - Free, Gluten - Free, Soup, Vegan, Vegetarian