It has been a while ago that I created something delicious made with fresh yeast. It was time to change that. A few years ago, I created Vegan spelt cinnamon rolls with a cashew frosting! And another tasty one, was this one: Vegan spelt rolls filled with a fresh home-made fig vanilla jam topped with cashew chocolate frosting, I created them both with dry yeast.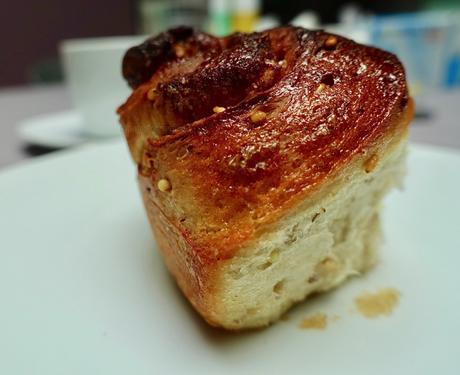 Lovely sticky!
I created this stunning recipe. The end result were these lovely delicious vegan cinnamon hazelnut rolls aka buns! They were really fun to make! And look at the yummy inside: spirals: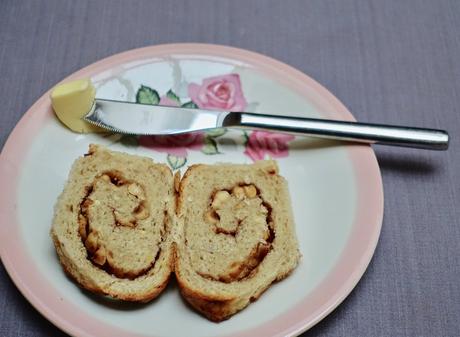 Recipe: For 22 rolls
Ingredients:
For the rolls:
370 gr organic white flour (T 65)
130 gr organic 5 grain flour (My mix was Markal organic 5 grains + 3 flakes: white flour T 65, oat flour, rye flour, rice flour, wholemeal spelt flour, barley flakes, millet flakes, sesame & wheat gluten)
250 ml a bit warmed unsweetened soy milk
40 gr cane sugar
15 gr fresh yeast, crumbled
3.5 gr salt
15 gr apple juice sweetened dried cranberries
50 gr melted vegan butter
1 flax egg (1 tablespoon ground flaxseed + 3 tablespoons of water)
+ 2 tablespoons of T 65 flour extra!
For the filling:
60 gr softened vegan butter
2 teaspoons ground cinnamon
55 gr cane sugar
80 gr roasted hazelnuts, chopped
For the sticky topping:
100 gr cane sugar
3 tablespoons unsweetened soy milk
Method:
Make the rolls! Take Kenwood major & place dough hook in. In fitted bowl, add 2 flours, salt, cranberries & cane sugar. Mix with a spoon. In another bowl, add crumbled fresh yeast & warm soy milk. Whisk together until yeast is mixed in. The yeast milk is now very bubbly. Pour this mix into the flour mix. Turn machine on speed number 2 & mix together for about 4 minutes. Place in your bowl & put closed plastic bag over it. Leave to rest for 15 minutes.
Now, add melted butter & flax egg. Start mixing on medium-speed for about 2 minutes. My dough was too wet, so I added 1 tablespoon of flour extra & mixed it in. I added another 1 tablespoon of flour & mixed it in. My dough was good & formed a coherent dough. The machine kneaded it for another 5 minutes more on speed aka 4. Take out of bowl & placed it into another oiled bowl. Place plastic bag over it & I also place a cup of just boiled water beside my bowl into the plastic bag.

Leave to proof for the 1st time until doubled in size. It took my dough nearly 1 hour.

Flatten & shape dough! Flour your kitchen counter with some flour to prevent sticking! Place risen dough onto it. Roll & shape your dough to the format of about 44 cm long & 25 cm wide.
Now, combine your filling & divide. Roll rolls up & cut! Take Kenwood major & place K-hook in. In fitted bowl, add softened butter. Mix on low-speed to soften it more. Now, add cane sugar & cinnamon. Mix it all in on low-speed aka 1-2. Spread this mix & divide it equally over the surface of your dough, leaving 1 cm free in the border! I spread it with my clean fingers, it is most easy this way! Now, scatter your chopped roasted hazelnuts all over the dough. Push them a bit into the dough! Now, carefully roll your dough up. Tuck the sides in. Place onto a chopping board & cut them as thick or as thin as you like. I ended up with 22 rolls! I chose 2 oven dishes & smeared them all in, also the sides with sunflower oil  to prevent sticking! It is better to choose an oven dish that is more square & that the rolls touch each other so they rise up instead go wide! Place your rolls up, loosely against each other with the cut side up so that you can see layered rolls & stuffing! Place into watered plastic bag for the last proof. This took my rolls about 45 minutes. Preheat your oven to 180°C. (350 F)
Finally, make the topping. Place cane sugar into a cooking pot & add soy milk. Bring to the boil stirring. Boil for 1 minute & turn fire off. Brush this onto the tops & sides of each cinnamon nut roll! Place each dish into the hot oven & bake for about 25 minutes on 180°C (350 F). Test to see if they are all the way cooked through by inserting a thermometer inside the buns. If they are 95°C (203 F) they are perfectly baked! Leave them to rest into their baking dishes for about 10 minutes. Carefully, remove them from the hot pans with a spatula. Place onto a wire rack to rest a bit or to cool down completely! They look super huge, delicious & your house will smell amazing! We like them fresh from the oven while they are still a bit gooeewiieee! They need a bit of vegan butter! The inside is just right with the cinnamon & roasted hazelnuts! Perfection! My hubby Peter gave it a 10/10 & so did I! Enjoy just like that or with some vegan butter on the side & a cup of vegan café latte, of course!

MMM! They keep for 3 days well into a cookie box. Here is a step-by-step guide!

Fully baked, part 1!!
If you loved reading this post & would like to receive cool email posts from me, just SUBSCRIBE to my lovely blog HERE!