Whenever I think about veg kurma, I can never stop my mind flashing about the veg kurma I had in Balaji Bhavan, Anna Nagar East, Chennai. I went to Chennai for my cousin marriage. Living here in Bangalore I really miss Tamilnadu food (hotel), on my stay in Chennai  I had a chance to enjoy TamilNadu food. Really had a tasty food in Balaji Bhavan. Everything served there was perfect, I became a very big fan of veg kurma served along with chapattis. So I asked for the veg kurma recipe and tried in my house with some alterations, resulted in a good taste that even my mother in law asked me for the recipe.
           The recipe is an easy one and less time consuming. Goes well with idiyappam, appam, chapattis, rotis and even with ghee rice, coconut milk rice.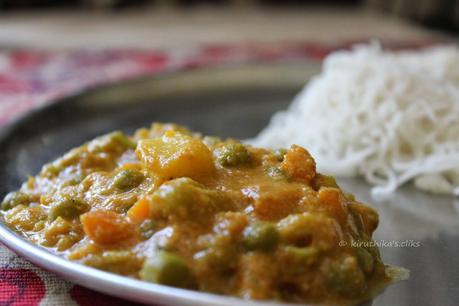 Prep time 
15 mins
Cooking time
 20 mins
Ingredients
1
Onion
1
Tomato
2 tbsp
Chilly Powder
1 tbsp
Coriander Powder
1 tbsp
Garam Masala Powder
1/4 tsp
Turmeric Powder
As per Taste
Salt
Vegetables for Kurma
1/4 cup
Green Peas
1
Carrot
5-6 nos
Beans
1
Potato (medium sized)
1/2 cup
Cauliflower (Optional)
To Grind
      For Ginger Garlic Paste
1 inch sized
Ginger
6-7  nos
Garlic Pods
     For Coconut Paste
1/2 cup
Coconut Grated
1 tbsp
Roasted Gram Dhal/ Chutney Dhal
1/2 tbsp
Poppy Seeds
2-3 nos
Cashew Nuts
To Temper
1 tbsp
Oil
1 inch sized
Cinnamon
2 nos
Cloves
For Garnishing
1/2 tbsp 
Coriander Leaves
1/2 tsp
Garam Masala Powder (optional)
Procedure.
1. First cube all the vegetables and make the paste of ginger garlic.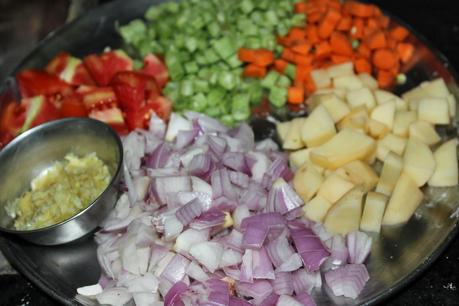 2. Then make the coconut paste using the ingredients under for coconut paste. The paste should be very smooth.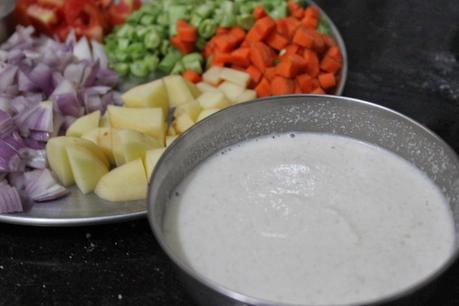 3. Heat oil in cooker, add cloves and cinnamon followd by chopped onion. Saute it till it turns transluscent, then add the ginger garlic paste. Then add the tomatoes and saute for 2 mins.4. Now add all the cubed vegetables and add 1 cup of water. Let it boil for 2 mins. Add the powders Chilly powder, Coriander powder, Turmeric Powder and required Salt.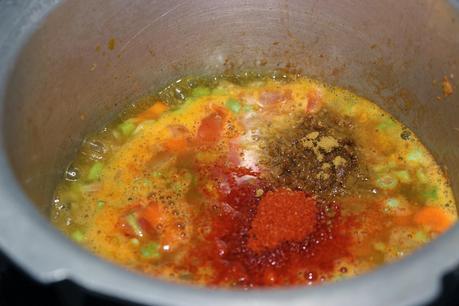 4. Now close the cooker and wait for 2 whistles. After two whistles turn off the stove and wait for the steam to escape.5. Open the cooker, add the grinded coconut paste and the garam masala powder. Allow it to boil (in simmer flame) to reach the thick kurma consistency. 6. Once done switch off the stove and garnish with coriander leaves. While garnishing I usaully add 1/2 tsp of garam masala powder to get a good flavor.                    Note:
You can also cook in a kadai, instead of cooker. Using cooker will consume less time.

While sauteing the ginger garlic paste i usually add a pinch of salt so that it will not be so sticky.

You can also add green chilies, if so you add reduce the chilly powder a little.