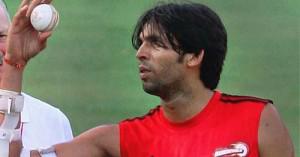 Controversy queen Veena Malik seems to have fallen in love once again. This time she revives her love with former Pakistani cricketer Mohammad Asif. Veena and Asif broke out on monetary matters. After their breakup Veena Malik used media and government authorities to settle her disputes with Mohammad Asif.
She even accused Asif of having relations with bookies. He was jailed in UK over similar charges. However it seems that her sentimental tide has turned once again. Now she is acknowledging that Mohammad Asif was a "real man" in her life. Veena said that she has spent best moments of life with Mohammad Asif.
 "Asif is the real man for me and I missed him a lot. He is out of all and the best moments which I spent with him that is a foot massage and I think he is better foot massager than a cricketer,"
Veena Malik is currently in India. She was emotionally involved with fellow actor Ashmit Patel.  For quite some time she stayed with Ashmit in his apartment in Mumbai. Both of them were photographed together many times.
Like her previous loves Veena Malik broke with Ashmit as well for reasons better known to them. Now she denies having any relation with Ashmit. Later on she was spotted enjoying with director Hemant Madhukar in different parties and in swim wear. Both of them broke up unceremoniously.
After having relations with couple of guys she has once again turned to Mohammad Asif. However Asif is no more a celebrity and is living in London. He has been banned from cricket for five years. This is yet to see how Asif who is now married responds to her sentiments. She has termed him a better massager than a cricketer which may hurt his ego. Their re-union seems out of sight.