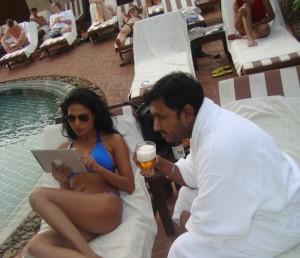 Veena Malik and Hemant Madhukar were spotted enjoying aside swimming pool earlier this year
The love affair between Bollywood bombshell Veena Malik and director of her forthcoming Hindi movie Mumbai 125 Hemant Madhukar is no more a secret. Both have been spotted enjoying several times in past but recently they have publicly promulgated their love by kissing and cuddling on the stage.
According to OneIndia Entrainment, the lovebirds were invited as special guests by producer Uday Shankar on audio release function of movie Made in Vizag. Veena, who reached half hour later than Hemant, went to the director, squeezed him in her arms tightly and locked the lips with him.
Earlier this year, the lovebirds were spotted enjoying aside some swimming pool. In the pictures the sizzling actress was seen displaying her toned figure wearing blue bikini while Hemant, who is already married, was chilling out. After that they had been caught partying in different hotels several times.
Veena Malik, who emerged as most controversial actress of Pakistan after doing a nude photo shoot for India's FHM magazine, earlier remained associated with banned cricketer Mohammad Asif and Big Boss fellow Ashmit Patel.
Veena Malik is currently busy in the shooting of her debut Telugu movie Nagna Satyam, which is produced by Chadalavada Srinivasa Rao.