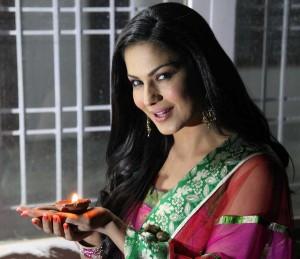 Veena Malik celebrated Diwali with her Telugu movie director in Hyderabad
Controversy Queen Veena Malik celebrated Diwali with the director of her debut Telugu movie Rama Rao at his residence in Hyderabad on Tuesday.
"Diwali is a festival of light and colour, I am very happy to celebrate Diwali with Rama Raoji. It's fun to light Diyas, crackers, fuljhadi and rockets. As it's my second diwali I love to share this moment with all my fans," said the sizzling actress.
On this occasion, Veena Malik offered Lakshmi puja (worship of a Hindu Goddess Maa Lakshmi) and prayer for her wealth and success.
Her forthcoming Telugu movie titled Nagna Satyam was launched on Sunday. The movie is directed by Rama Rao and produced by Chadalavada Srinivasa Rao.
 "I love seeing lights all around me. Hyderabad looks like a lovely bride during Diwali. And it's great to see people finally taking time off from their hectic lives in this fast-paced city to enjoy some time with dear ones", added Veena, who got fame in India after her stint on 'Bigg Boss 4′.
Nagna Satyam, which is expected to release in theatres in the mid of 2013, is Veena Malik's second south film apart from performing in a Kannada movie – Dirty Picture: Silk Sakkath Maga –.
Since her entrance to the Indian cinema with the Hindi movie Gali Gali Mein Chor Hai, Veena Malik has managed to hog the public eye with her raunchy, topless & over-the-top done-to-death antics. But she said Nagna Satyam does not deal with the sex but addresses contemporary issues.
Her upcoming Hindi movies include Mumbai 125 KM 3D and Zindagi 50-50.
Veena Malik celebrated Diwali with Rama Rao (In Pics)