Chi va piano va sano e va lontano
"Chi va piano, va sano e va lontano" the Italian proverb which means "If you have an easy-going and relaxed approach to life, you'll live more healthily and longer".   It is true for some point. If we approach the things we love like family, friends, and food, we will truly enjoy our lives happily, and this could make us survive a little bit longer than being sad or near things that makes us sad.
I learnt this proverb during my visit to Vapiono, Riyadh (KSA) this Thursday. And this is exactly the attitude that Vapiano wants to deliver to their Vapianistis (Guests &employees) during their dining in experience!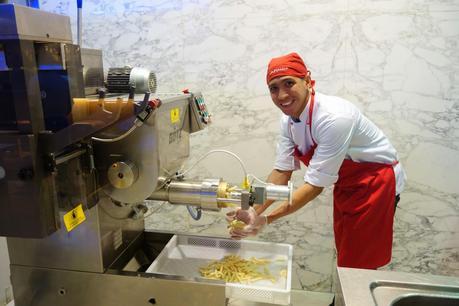 Live Pasta Making فابيانو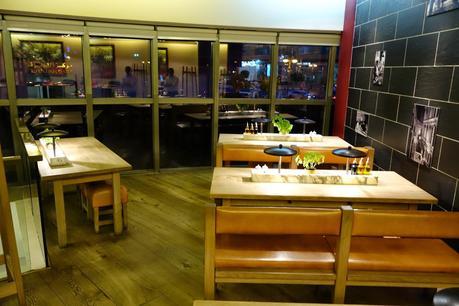 The ambience & vibrant decor makes you feel like you are eating at home.
I always tell my readers that I don't like to judge a restaurant by one visit. And this was my third visit to Vapiano. My first try was in August 2012 and my next visit was May 2013. And this was the third time where I got to be invited to there. The restaurant has greatly improved since the last time I was there. From management and staff dedication, to the quality of service and food.
The pasta display on the entrance, the big black wooden board, and the fresh pasta making & cooking stations is what got me attracted to Vapiano when I came to Riyadh city. You can rarely find this mood, ambience, , eating experience and high quality in one place!
It really defines the future of fresh, casual dining, as this European chain exhibits a vibrant atmosphere, innovative restaurant technology and delicious and affordable menu! And If I wanted to sum up my food experience at Vapiano in 3 words I'd say this "Interactive, Fresh,  & Simple ".
( For a quick view of my whole experience, check out
my slideshow)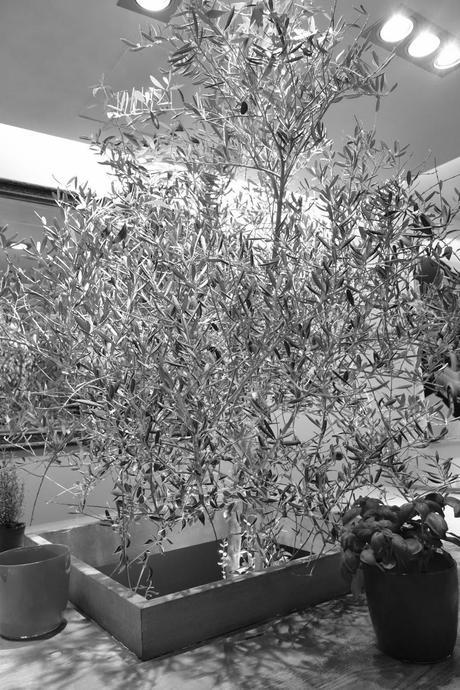 The major centerpiece and the Mediterranean symbol of each Vapiano is the 100-year-old olive tree which has its own special place in the dining room.

Interactive
The long oak tables in the Vapiano are an open invitation to communication—with friends, family, or simply with other guests.  The soothing décor includes contemporary furnishings made from imported German oak typically used on yachts and villas, natural stone, soft earth-toned leather 
Pasta, pizzas, antipasti and salads are ordered directly from the chefs at the individual stations. The chefs prepare all of the dishes to order in front of the guests. Everyone can have his meal prepared to his own personal preference. Favorite dishes can be created, and then individually refined. The chef asks you whether you want your chicken with spice, or if you want garlic oil…
Every meal is made-to-order and created right in front of the guests' eyes, allowing for the ultimate interactive experience; and throughout the preparation of their meal you can instruct for your own taste preference!  Everything is customizeable.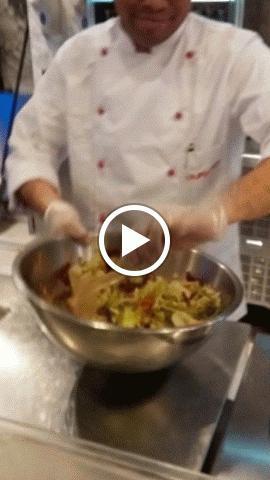 Video 1: Salad Made Fresh
Video 2: Pizza for your eyes !


Fresh
Fresh herbs which are found throughout the Vapiano, the "Green Wall" of living plants, and the view into the glassed-in pasta manifattura in the middle of the dining room, where Vapiano's fresh pasta is produced daily, visualize the claim of freshness of the ingredients and their direct preparation (caption for pictures)
The Herb Garden Wall: Thyme, Basil...imported from Holland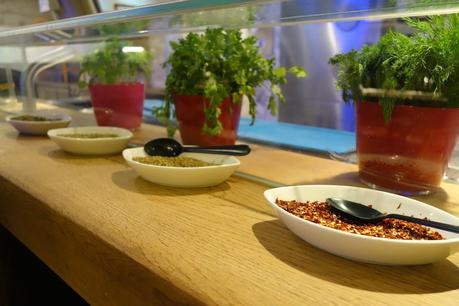 Add your own fresh spices!
The herb garden and the fresh herbs on the tables are not just for decoration, but you can also grab some and add them to your meal! You will see how the pasta are made fresh each day in the glassed-in manifattura in the middle of each Vapiano.  The pizza dough, or sauces and dressings, and balsamic and pesto are all prepared in-house and guaranteed to be made of the finest ingredients. 
Each Vapiano all around the world takes care of producing its own food, that's why there is no central production facility. Meaning ALL FRESH! How cool is that for a casual restaurant?
Simple & Pure Tastes
The menu is made of Appetizers & Soups, Pasta, Pizzas and Salads, making it up to 40 menu items.. This  restaurant offers a diverse number of pastas and pizza offering in Riyadh so far, suitable for all kind of tastes! The plates are not only made fresh and on spot, but in addition to that the ingredients are simple making you enjoy the pure taste of the meal.
Below are some of what I tasted and tried!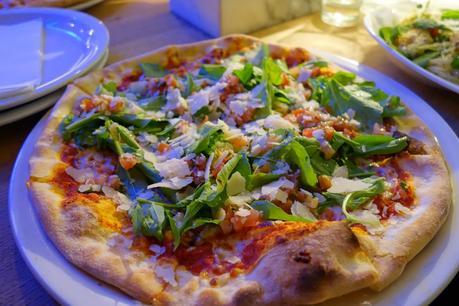 Bruschetta:Pizza  rocca leaves with Bruschetta topping tomatoes, olive oil, salt and pepper. بروشيتا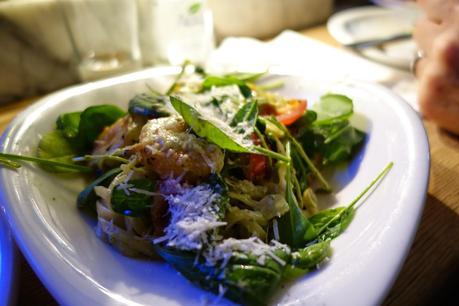 Signature Plate Scampi Spinaci : King prawns/jumbo shrimp and spinach in a creamy sauce with homemade basil pesto. MUST TRY!!!
سكامبي سبناتشي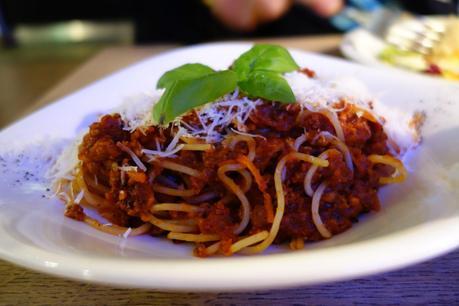 The famous Spaghetti Bolognese, with a great melted mix of carrot and cherry tomatoes!
بولونيز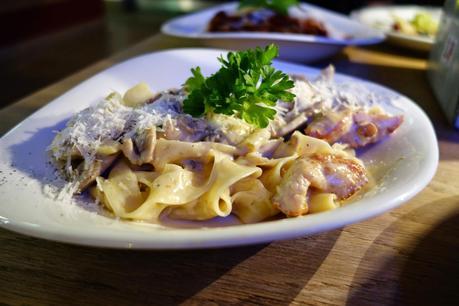 Delicious plate of Alfredo made with succulent chicken,  creamy mushroom and parmesan cheese.
دجاج ألفريدو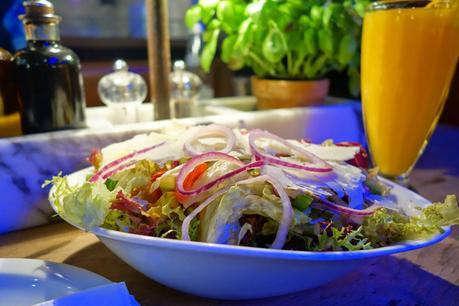 Insalata Mista from lettuce,cucumber,tomatoes,mixed herbs, spring onions and grated carrot, with fresh Balsamic Sauce
انسالتل ميستا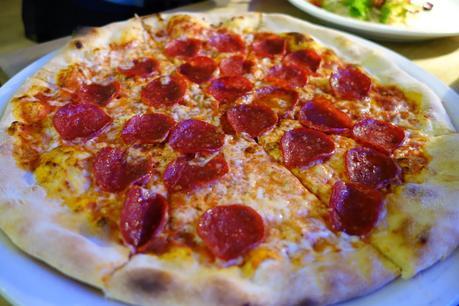 Surely, the "American" Pepperoni , fresh and tasty!!Spicy pepperoni on homemade tomato sauce and mozzarella.
  بيتزا بيبيروني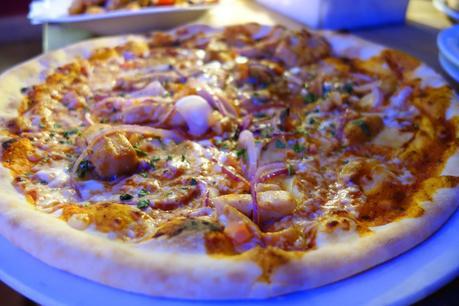 Barbeque Chicken, overwhelming flavor, must try!
دجاج باربيكيو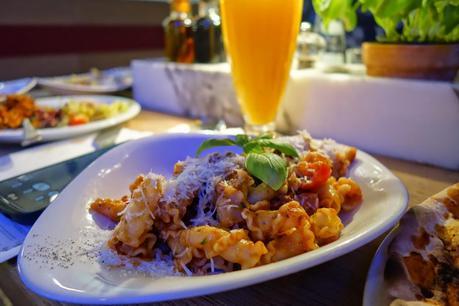 Cant get enough , all plates were simply delicious!
More Photos 
Quality: Technology and Fast Service
The waiters in vapiano would not stop moving around and coming to our table to check if we needed anything. A small change in the table and they would come and give it us. I like how they are all trained, all smiling and very much responsive to customers. This thing lacks a lot in other restaurants in Riyadh where almost staff are careless to customers….  The Operations manager of Vapiano Riyadh is also fastly acting and detail oriented, guiding the staff in small yet important details. He also very attentive to the customers' needs and orders.
I like the smart-card payment system, where you just pay for what you ordered through it, at the desk as you leave.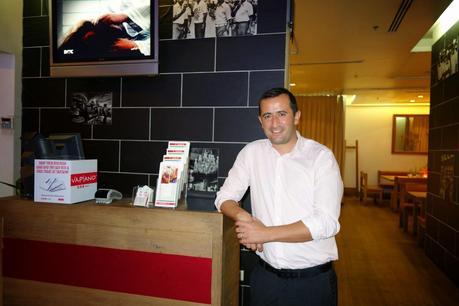 Thanks for the welcoming hospitality of the Manager Mr. Basil and all Vapiano Team for this wonderful experience in Riyadh!
More Photos
 

Go there for a break in your Daily Routine!
Vapiano has as a comfortable lounge where guests can relax and spend enjoyable time together. The seating in the lounge area is made up of sofas, chairs and stools which are upholstered in two shades of red and nice decoration. I would go there for a ladies gathering! As it is really tempting and appealing. If you are looking for just an after-dinner coffee or drink can move from your table to the bar or the comfortable lounge.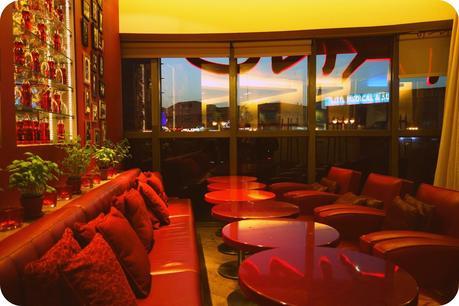 The Vapiano Lounge, perfect for relaxation and enjoying a dessert with a drink!
The Vapiano Terrace is one of the most popular and frequented areas in the summer. Spacious and bright outdoor ash wood furniture with cushions and pillows invite the guests to linger and sit. Yet the terrace is only for Males in Riyadh :( too bad! But I ll try the terrace in Khobar if I went there!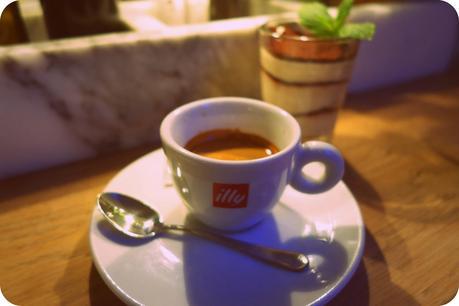 Perfectly Italian! Tiramissu with Espresso from Illy
About Vapiano:
The First Vapiano opened its doors in 2002, in Hamburg, Germany. Today there are already over 150 Vapianos in 29 countries on 5 continents, with many more to come. Saudi Arabia - Vapiano, has two branches in Saudi Arabic, located  in the Localizer Mall in Riyadh and the Dhahran Mall in Khobar.  Vapiano has been one of the most influential restaurant  concepts in the region, winning awards such as the 2013 "Best Newcomer" by Timeout Restaurant Awards, and was also placed in the 2013 "Favorite In Mall Restaurant" by Citibank Fact Dining Awards. The brainchild behind Vapiano's presence in the GCC is SunCity Ventures W.L.L. Established in 2003; SunCity Venntures W.L.L. is a Bahraini based company, which operates as a franchisee and operator of popular food and beverage concepts in the GCC. The company enjoys a reputation in the market for introducing many well- known brands such as Zayt Zaytoon, Gloria Jean's coffee and Yellow Cilli.
Restaurant is open for lunch and dinner.
Timing from 10:00am to 11:30pm every day.
Vapiano is the love of eating, of freshness, of manifattura, of communication, and of enjoying being together. This love is expressed in Vapiano's interior design: eating together, communicating with each other, all in a cosmopolitan atmosphere.
Vapiano is the perfect setting for your quick lunch, an afternoon break, or a pleasant dinner with friends or family.  I do recommend it!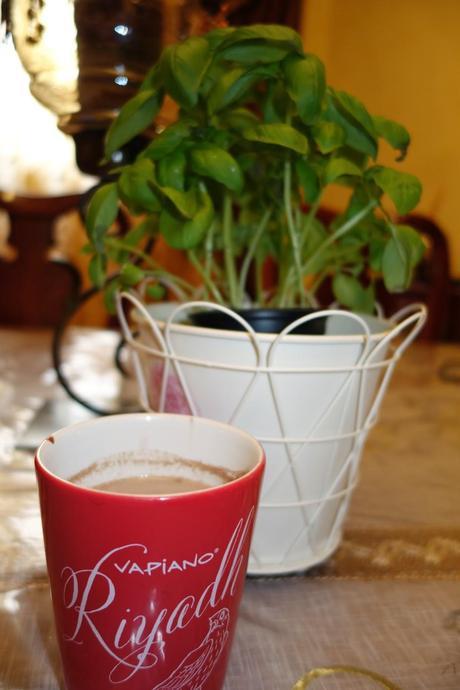 2 gifts I took back home! Vapiano Collector Mug & The Basil Plant
Social Media Account 
Like them on Facebook Page
Tweet Vapiano!
Follow Vapiano on Instagram
www.
vapiano
.com/