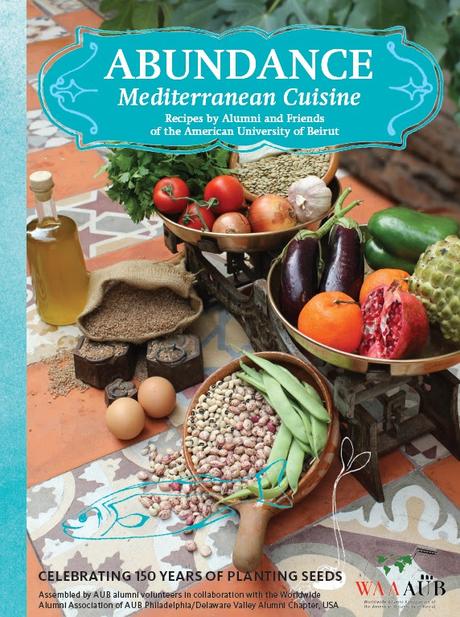 Letter from 
Wafa Saab - 
President, WAAAUB

"For over a year now 45 alumni of the American University of Beirut residing in different countries across the world have been working together to assemble a cookbook on Mediterranean cuisine. What makes this cookbook special is that, in addition to the health and dietary benefits, it includes snippets of memories associated with the tastes and smells of the foods.

Who among us does not remember the aroma of a favorite dish their mother prepared? Or the warm fragrance of grandmother's soup in winter?

The Philadelphia/Delaware Valley Alumni Chapter has deemed these tastes, smells and memories too precious. They have mobilized the culinary talents of 45 alumni world-wide and put together this sumptuous collection of recipes.

And what better occasion to launch such a creative endeavour than the 150th Anniversary of the university we are all celebrating. This is yet another activity that links our history to the future generations that will experience the abundance of being a part of AUB's life-changing experience.

A case in point is that the cookbook contributors were not previously acquainted. Their main common denominator was their history at the American University of Beirut. It was that connection that they employed when reaching out to over 150 others who submitted more than 200 recipes.

AUB was the connection that bound them together as they cooked, tested, tasted, sampled, wrote, rewrote, edited, styled, arranged and photographed the various dishes. In the midst of all of this, they shared treasured memories of their years at AUB, discovered lost friendships and updated one another on life events.

The volunteers who produced this collection of recipes used their educational and professional backgrounds, their qualifications and their know-how to contribute to the sections on health, lifestyle, and benefits of the Mediterranean cuisine—including substitutions for dietary limitations, and a glossary of terms, techniques, herbs and spices.

I would like to take this opportunity to, not only thank the volunteers who made this work possible, but to point out the enduring connection to our Alma Mater, which continues to bring us together on projects and endeavours of such a diverse and intrepid nature.

Please take time to click on this link and see a preview of this beautiful publication:
http://www.alumniconnections.com/olc/filelib/AVB/cpages/44/Library/WAAAUB%20cookbook%20FINAL%20PREVIEW-

DEC15

.pdf

You may also pre-order your copy of Abundance by going to this link:
http://www.alumniconnections.com/olc/pub/AVB/cpages/news.jsp?chapter=44

It is truly inspirational to see our worldwide alumni engaging with each other, with their chapters and with AUB. Our strength continues to lie in your sustained engagement and your contributions to our beloved Alma Mater. "