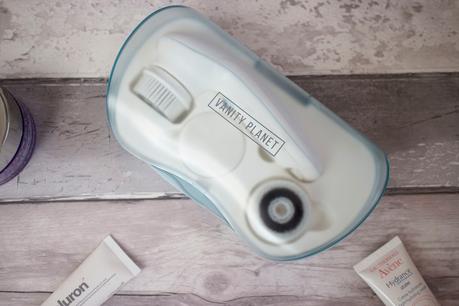 I have had an electronic facial cleansing brush on my wishlist for about a year now. I've heard really good things about them but I couldn't justify spending over £100 on one. I've been saving up my Boots points all year trying to get enough points to purchase a Magnitone one.
I saw this video by Sharon Ferrell the other day and she was talking about the Vanity Planet Ultimate Skin Spa System. I hadn't heard of this brand before and hadn't seen much about them. I read some reviews, watched some more videos and they seemed to have some really good reviews.
They have a wide selection of electronic facial cleansers ranging from £80 to £120.  More expensive than the Magnitone but Sharon had a 70% off code which obviously made my decision to purchase one that little bit easier. Check out her description box if you're interested in that 70% off. Because of the money off Code Sharon had I brought this for £30. When checking out it converts it to dollars and with postage I think I spent around £35-£38 - either way a total bargain.
The Ultimate Skin Spa System comes with duel speed, battery powered waterproof handle, daily cleansing brush, exfoliating brush, silicone brush and it all comes in a handy plastic storage box. The box isn't that great of quality, the first time I opened it the hinge snapped at the back which is a little annoying. This however is the only negative thing about the Ultimate Skin Spa System. After the first week of using it noticed a huge difference in the appearance of my skin. I've had problems with skin on my nose for years - it gets very red and sore. I will often get break outs all over my nose and it can sometimes split and will start to bleed. My pores have gotten bigger over the past couple of years around my nose and cheeks and I have really visible black heads. Since using this they've really cleared up. I've noticed my pores look clearer, the skin around my nose doesn't look so sore, it's still red but it doesn't look swollen anymore. I'm noticing less black heads and overall my skin's appearance looks more healthy and plump.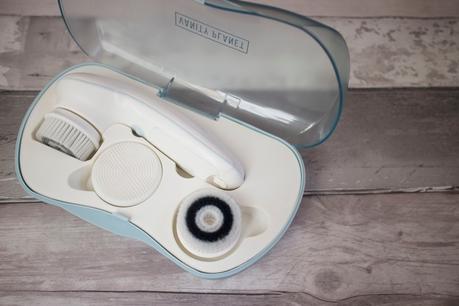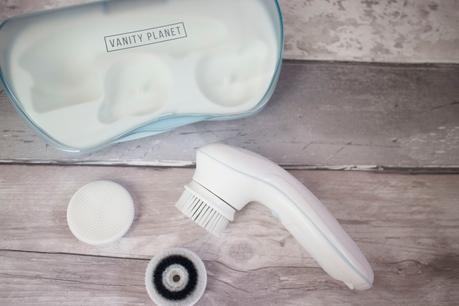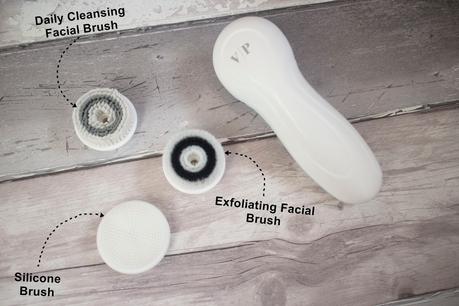 The daily cleansing facial brush has nylon bristles which are designed to lift away dead skin cells. They're really soft and perfect for daily use. After using this I feel like my face is clean, not tight and stripped like some facial cleansers can do. I hate that feeling, I imagine my face being like a petri dish when I have that feeling.
The exfoliating Brush is made of more durable nylon bristles designed to remove dirt from the lower layers of the skin. I haven't yet tried this brush but the bristles do feel soft so I can't imagine this being too harsh on my skin.
Finally, the Silicone brush is very self explanatory. It has silicone bristles designed to gently lift up dirt and unclog pores. This one feels really nice and soft, doesn't feel harsh at all.
The battery powered, waterproof handle has two settings - one faster setting and one 'slow' setting. The slow setting is perfect for my skin, I tried to faster setting with the daily cleansing brush and didn't really like it. I'm taking baby steps.
Overall I have been really impressed with this and I honestly think it's helped improve the appearance of my skin. I know £100 is a lot of money to some (it is to me) but I do think it's worth the investment.