Happy Thursday!! Today I will be reviewing accessories from
Vanity Box
. A month back, I received an email from Vanity Box asking if I would like to review their products. Prior to the email, I've always looked around their site thinking how cute their stuff was but never purchased anything. Vanity Box asked me pick a few items to review. One thing that really surprised me was the quality of their jewelry.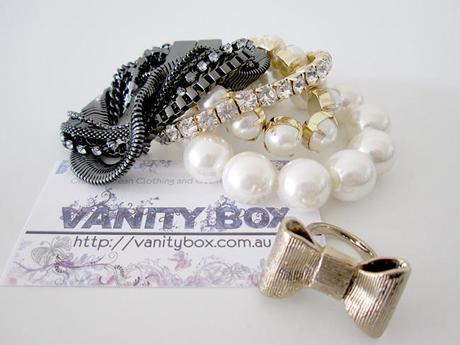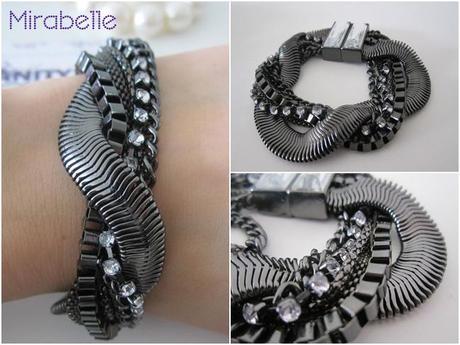 This is my favorite piece - The Mirabelle. I wore this to work and one of my coworker kept complimenting, she even took it off me for a while and claimed it as her own lol I love the chains with the added crystals.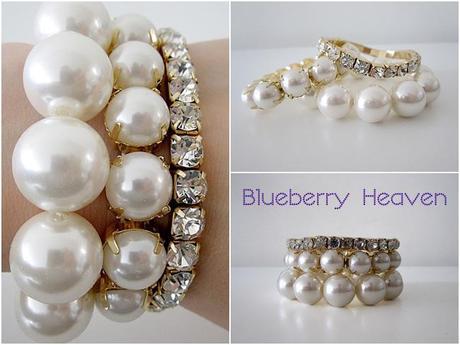 Blueberry Heaven is a very pretty looking bracelet. Blueberry Heaven comes with 3 pearl and crystal stretch bracelets. The weight of this bracelet is light but not flimsy. I haven't worn these out yet mainly because it's winter and I wear too much black clothing. I'm just waiting for warmer weather so I can whip out these babies to wear.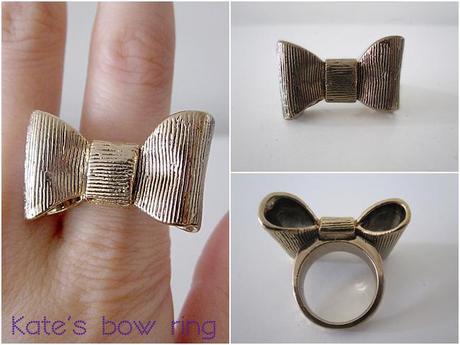 Kate's bow ring is awesome. Initially when I picked it, I thought it was plastic but this ring is made out of metal. It's a little heavier but very sturdy. As you can see from the photos, the quality of this ring is fantastic.
The package arrived within a few days and the packaging was really secure. There were even 3 pieces of chocolate attached. I ate them straight away, chocolate never lasts long around me. Overall, I'm loving the items that were sent to me!
Thank you Vanity Box!!!
If you find extra bad grammar and typos in this post, I'm really sorry. Been working really long hours and by the time I get home, I just want to sleep which is what I'll be doing after this post goes live. Good night!!
Have you shopped at Vanity Box before?
♥ kerker 
Twitter
 | 
Facebook
 | 
Instagram