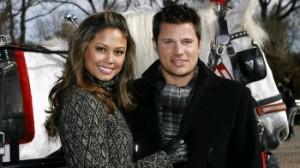 Singer Nick Lachey and his actress and television host wife Vanessa Lachey welcomed their first child, a baby boy, this week. The couple welcomed Camden John Lachey together on Wednesday evening.
"We are incredibly proud to announce the birth of our beautiful baby boy, Camden John Lachey. Born today at 6:54 pm. He came into this world at 8lbs 9oz and 21 inches. Love has truly been redefined for both of us", the couple said, confirming the news of their baby boy's birth.
Nick, 38, and Vannessa, 32, had exchanged wedding bands during a romantic ceremony in July, 2011 at Necker Islands. (It was the first wedding for Vanessa, and the second for Lachey as he was married to Jessica Simpson from 2002 to 2005).
They had announced the arrival of the baby over the summer in March 2012.
Lachey had said, "The nursery's ready, we got the stroller, we got the car seat. Now it's just emotionally figuring out what we do, and I don't think that ever ends."
"I've assembled a couple strollers at this point and I'm pretty confident. If my brother [Drew Lachey] can handle putting in a car seat, I feel like I have a pretty good chance. If he can do it, anyone can do it!"
"For someone who has wanted a family for such a long time, I've looked forward to this moment. Now that it's almost here, it's awesome", the singer said in August.
A lot has changed for the couple in the past year, Lachey stated. "You get married, you get pregnant, and it all kind of happened so fast," he told in an interview. "But it's very exciting!"
Nick Lachey gained popularity through the 1990s boy group '98 Degrees', and achieved a pop culture figure image during his highly publicized marriage to Jessica Simpson, which was narrated on the MTV reality series "Newlyweds: Nick and Jessica." This summer he competed on the NBC reality competition series "Stars Earn Stripes."
Vanessa Lachey is an ex- beauty queen who hosted MTV's "Total Request Live" from 2003 till 2007, and presently hosts "Wipeout" on ABC.  She has also appeared on a number of TV series, including NBC's "30 Rock" and CBS' "How I Met Your Mother."
Welcome Baby Camden! Congratulations, Nick and Vanessa!
Also Read : Blake Lively & Ryan Reynolds' Hush Hush Wedding