The Arsenal forward continued his stunning form with a double against Liverpool which took his season tally to 31 goals, but he is keen to take his game to another level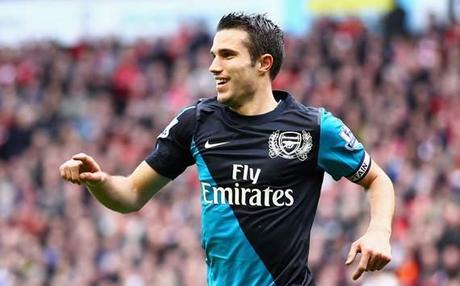 Robin van Persie has revealed he is still looking at areas in which he can improve his game, despite having netted 31 goals in all competitions for Arsenal so far this season.
The Dutchman hit a stunning double in the Gunners' crucial 2-1 win over Liverpool last weekend, but has admitted he wasn't entirely satisfied with his all-round performance at Anfield.
"While it was nice on a personal level to score another two goals, I don't really sit down and reflect on the figures," he told the clubs's Official Matchday Programme.
"There's too much else to do, and you can't dwell on things because there is always room for improvement.
"I lost a couple of balls in the midfield area on Saturday that I shouldn't have, so I'm more interested in focusing on how to avoid that next time.
"You always want to get the maximum out of your game - to make assists, to score goals, to be strong on the ball, to combine well with your team-mates and bring all these things together.
"It's rare that you can achieve it, but it has to be what you aim for and it's more important than pursuing one target."