The Gunners captain has been visibly buoyed by talk of big-name new arrivals at the north London club, signalling a shift in his behavior during pre-season training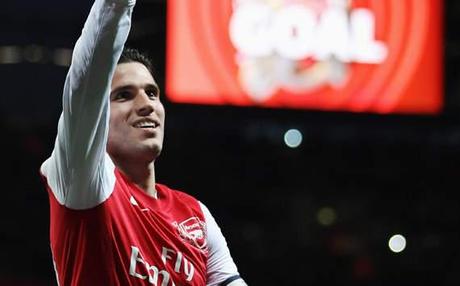 Viewed in isolation,
Arsenal
's impending signings of
Santi Cazorla
and
Nuri Sahin
are a considerable statement of intent and execution.
The Cazorla deal should be completed by the end of this week for around £18million and the Londoners will then turn their attention to capturing Sahin from Real Madrid on a season-long loan.
It is the knock-on effect of these two players moving to Emirates Stadium – and the enticing possibilities which it provides for the team - that is generating such excitement, not only among supporters but the players too.
ARSENAL TO SEAL £18M CAZORLA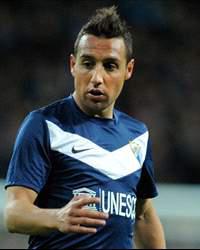 The Spain star is expected to arrive in London for a medical in the coming days and sign for Arsene Wenger's side, who have already added Lukas Podolski and Olivier Giroud
Click here for more
It is understood that the atmosphere was different at the club's London Colney training ground on Wednesday. It is said to have felt re-energised and uplifted.
Manager Arsene Wenger was able to put his entire squad through their paces for the first time in pre-season, bar those still recovering from injury, such as Jack Wilshere. 
The 24 players who toured Asia returned to training following a two-day break and joined those who had been left behind in London, including new signings Olivier Giroud and Lukas Podolski and, more controversially, wantaway captain Robin van Persie.
The players are well aware that the lavishly gifted Cazorla, a mainstay of the Spain squad that has dominated world football for the last four years, is on his way to the club.
A blue-chip attacking midfielder who can create and score goals goes some way to filling the gap left by the departures of Cesc Fabregas and Samir Nasri 12 months ago.
GUNNERS CLOSE IN ON SAHIN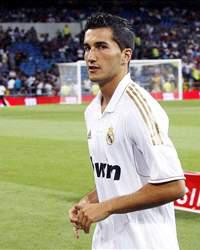 The Emirates outfit are in advanced talks over a swoop for the 23-year-old despite interest in the Turkey international from Manchester United and Tottenham
Click here for more
Intriguingly, Van Persie's body language was different. The skipper has trained fully in the last three weeks but he has effectively been going through the motions while he waits for a move to materialise.
On Wednesday there was a shift in his behavior. He appeared more motivated and interested.
Forty-eight hours earlier, the Dutchman appeared simply to be keeping in shape, biding his time and fulfilling his contract.
Now it was different. The prospect of staying at Arsenal did not seem the career suicide that he felt it was when he released his incendiary statement on July 4 that questioned the club's ambition and made it clear that he would not extend a contract that expires in 12 months' time.
The impending signing of a proven A-list playmaker from La Liga answers at a stroke the well-merited criticism that Arsene Wenger only develops stars and never signs them.    
ARSENAL LATEST
8/1Arsenal are 8/1 with PaddyPower to win the 2012-13 FA Cup
Sahin's arrival will also compensate for the absence of Wilshere, who is unlikely to be taking up a central midfield berth any time soon as he continues to make a slow recovery from ankle and knee problems.
While those close to him believe that Van Persie is still veering towards leaving, the possibility of him staying is not the remote one it was when he was not named in the Asia tour party 18 days ago.
The prospect of leading a team with Podolski, Cazorla, Alex Oxlade-Chamberlain, Theo Walcott, Gervinho, Aaron Ramsey and Tomas Rosicky competing for the three attacking midfield positions behind him and Wenger hoping to field two of Sahin, Mikel Arteta, Alex Song and Abou Diaby – and eventually Wilshere - for the two central midfield slots is believed to be exciting Van Persie.
The next step is the club's second pre-season tour. The team fly out to Germany on Monday for a week-long training camp culminating in a friendly against Koln.
At the moment, there is no guarantee that Van Persie will be on the plane. Indeed, Wenger himself might not know until a few hours beforehand.
Nevertheless, there is finally some light at the end of the tunnel for Arsenal following another bleak summer.
Follow Wayne Veysey on