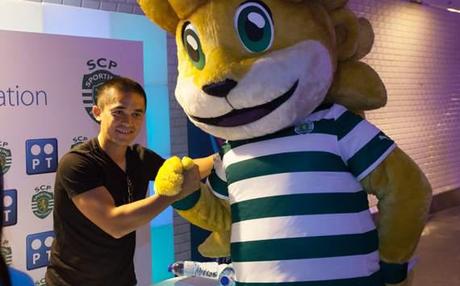 Sunil Chhetri
stated that the going isn't easy as he attempts to break into the Sporting CP reserve side but assured that he is leaving no stone unturned in giving his 100% on the training field. 
The Indian international signed a one year deal with the Portuguese giants in July this year which shall him feature for the 'B' side.
Chhetri was candid in his media interaction as he gave his opinions in a matter of fact manner. "As I have already said, for a player like me who comes from a country like 
India
 it is very difficult and I can see that now. The training with the reserve team is also very intense, so right now I am trying my best to give everything that I can," said Chhetri an autograph session in Lisbon's Baixa-Chiado district on Tuesday evening. Chhetri, who turns 28 tomorrow, highlighted that breaking into the first team is a distant dream for now given that impressing the coaches of the reserve side is his first task, though he has had a few words of encouragement from Ricardo Sa Pinto, the first team manager at Sporting. "Well, to be honest that isn't in my mind right now. Like I just said, it is also very competitive in the reserve team and it isn't easy for me as part of that team either. My first objective is to become something in the reserve team and to just to do as much as I can. It really isn't easy in the reserve team right now, so for me thinking about the first team is still too far away. We need to be realistic and I am more focused on becoming a good member of the reserve team first," Chhetri responded. "Yes, he (the manager) has (spoken to me). He was very kind and very encouraging. The first thing that he told me to do was to get comfortable over here (in Portugal), to try to be happy and to do my best in training," he added.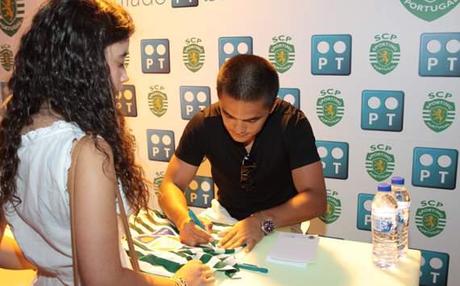 Chhetri signs an autograph for a Sporting fan
The former Mohun Bagan striker mentioned of having interacted a few times with the first team members and that he was given a warm welcome by his teammates of the reserve side when he first arrived in Lisbon. "I haven't had much interaction with the first team. They train different and we train different. I have talked to them a couple of times and they have all been very nice, but the guys from the reserve team have also been very nice and very helpful. They are all open with me and they have all made me welcome, so I really thank them for that. They are all very young, most of them even younger than me," said the new Alvalade arrival. With all the controversy surrounding Chhetri as to whether coach Wim Koevermans will include him or not in the final squad for the Nehru Cup for not having joined the Indian national team camp, Chhetri presented his case diplomatically by referring Nehru Cup as an 'important tournament' and put the ball in the court of Sporting. "We have a very important tournament for India coming up, which starts on the 22
nd
 of August. The Club has already been told about it, so I will act according to whatever decision Sporting makes. I am sure that everybody will go through FIFA's rules and regulations, so when I am allowed to leave the Sporting squad I will go and join the team," said Chhetri.