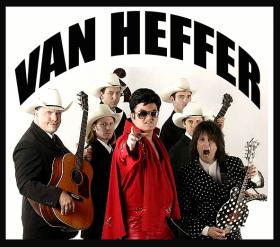 Why aren't there more films about effeminate Elvis impersonators doing Ozzy Osbourne songs with a crack bluegrass band? Co-writer/director/producer (and Nashville music producer) Scott Rouse set out to remedy this omission with his short film, Van Heffer.
The Comedy Central pilot traces the life, career and mysterious death of Sherman Van Heffer (Shane Caldwell) told in the style of the mockumentary pioneered by Rob Reiner, Christopher Guest, Michael McKean and Harry Shearer with 1984's This is Spinal Tap.
Van Heffer is peppered with a virtual who's who of bluegrass legends playing themselves (Del McCoury, Doc Watson, Ricky Skaggs, Jerry Douglas, Vince Gill) as well as Nashville notables such as Station Inn owner J.T. Gray and Wichita Rutherford, which lend the film its sharp, sarcastic authenticity.
To the best of my knowledge nothing further came of the project with Comedy Central, but the pilot has become a cult classic, and was a hit at the 2006 Nashville Film Festival.
Look for yours truly (with a transitory southern accent) as the record store clerk. The running time is a mere 26 minutes, so there is very little commitment. Much like my acting.