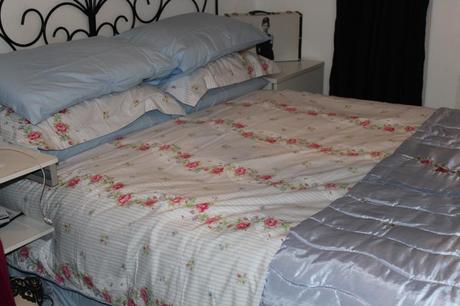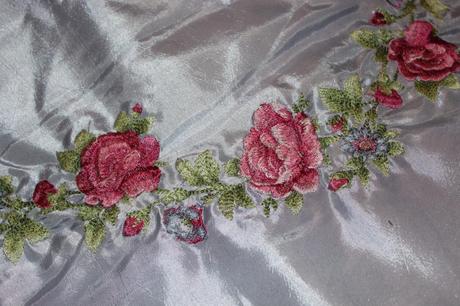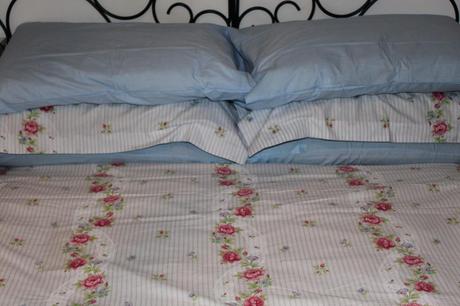 Everyone has heard of the V&A, but I was really surprised to find that they do bed covers based on prints they have displayed. Last week I went on a massive spring clean, and after taken my curtains down to be washed, I was amazed at how much bigger and bright my room look, so I decided the gothic boudoir look had to go! I previously had a black satin bed cover and curtain, while everything else in my room it white (walls, ceiling, floors, furniture etc..).
I live in a barn conversion so I decided to go for a floral/country house style look and headed to the Home Store and More, and was deeply surprised and happy to find this 'Melrose' V&A bed cover. 
I will be honest, it was rather pricey at £65 for a double duvet cover and two pillow cases, but I loved it so much, and luckily enough, so did my mom (she paid!) I also got a matching runner which was £37.50.
We then went to Dunelm Mill and got a 13.5tog double duvet for £7.75!! We also got matching sky blue valance, fitted sheet and four pillow cases (yes I have six pillows on my bed!) which came to around £20 for the set.
I absolutely adore it, and the duvet is so so warm and snuggley!
Have any of you bought any new things for your bedroom, if you've done posts on your bedroom, leave your links in the comments! Would love to see what they look like! Just need to change my head board and curtains now!