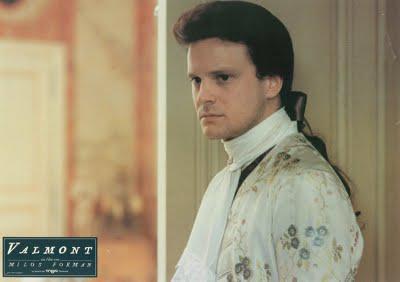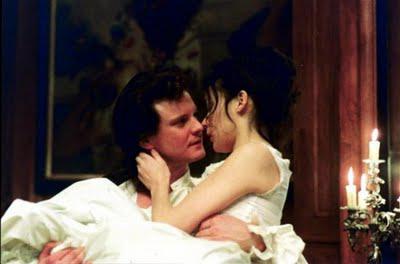 My most-read post of all time. Thanks Colin!
Milos Forman's film Valmont came out in 1989, the year after Steven Frears' Dangerous Liaisons. Both are based on Chloderos Laclos' scandalous 1782 novel Les Liaisons Dangereuses. Both feature rich and bored aristocrats and are set in Baroque France prior to the guillotine.
A scheming widow, the Marquise de Merteuil, and her sometimes-lover Valmont make a bet regarding the corruption of a recently married and very pious woman. Valmont wagers that he can seduce the newlywed, even though she is very honourable. If he wins, the Marquise promises him one last night with her. However, in the process of seducing the married woman, Valmont falls in love.
I prefer Valmont to Dangerous Liaisons. Colin Firth as Valmont does the "wet puffy shirt" before Mr. Darcy strips off in 1995's Pride and Prejudice. Firth is passion and charisma to John Malkovich's reptilian cold-bloodedness. I know who I'd rather snog with.
This was the first role I saw Annette Bening play. She's ripe, peachy and pretty and looks too nice to play Madame Merteuil but she's just as evil as Glenn Close.
Pretty Meg Tilly played the pious Madame de Tourvel. Well and truly seduced, Firth moved to the forests of Canada to be with her.
Here's a list of the major players in Valmont and their equals in Dangerous Liaisons.
Colin Firth – John Malkovich
Annette Bening – Glenn Close
Meg Tilly – Michelle Pfeiffer
Fairuza Balk – Uma Thurman
Henry Thomas ( Elliot from ET) - Keano Reeves.
And the 1989 trailer.