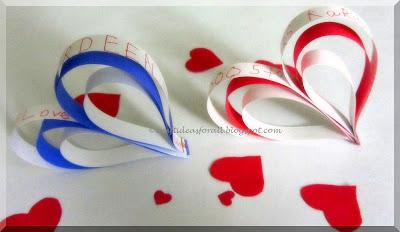 For preschoolers Valentine's day begins as soon as they start making heart crafts in school. It was amazing to see my daughter (Anna) involved so much in this year's Valentine's day celebration. For her Valentine's day is all about making crafts for someone you love. They have been making Valentine's day crafts, puzzles, mazes etc the whole first two weeks of February. She had to take something for her friends for the Valentine's day party in her class. She wanted to make something for her teachers too.This is what we came up with. It was simple, different and based on the teacher's favorite color we decided which color paper to use.
Supplies:
 -Color Print Paper strips: 0.5 inch wide and length based on how big heart you want. We used 2 strips each of 5", 6",7.5" (in your choice of color)
 -Stapler or Glue
-Fish line or Ribbon
 -Color Pen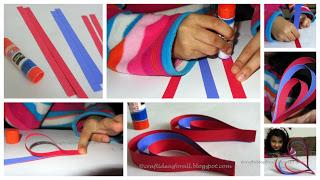 Instructions:
For the first loop using 3 strips.
1. Apply glue on one end of the strip measuring 7.5",place the end of 6" and press.
2. Now apply glue on this and place end of 5" strip. Refer pictures.
3. Make a loop using the 5" (innermost) strip and glue the end as shown. 
4. Repeat with the rest of the strips. Make the second loop by repeating the above steps. Glue or staple these two loops that you made.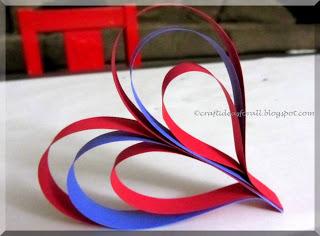 Variations
-Anna decided to write on the outermost strips for her teacher. So we used white strips for that.
-We also used the teacher's favorite color to decide who is getting which heart.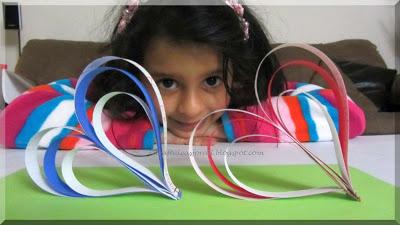 -She later decided to make one for her favorite aunt in the colors which are her son's and Anna's favorite.This one she made with no help from me at all.
 Notes:
-We found that glue worked better than staples so in the last one we used glue to stick the loops together.
 -To attach string we used stapler.(optional)
 -Parents should do the stapler part for younger kids and supervise for little older kids. For her friends we got some heart shaped erasers and lollipops. We packed it in cute packing. It was an extension of a craft we did earlier. We will share that with you soon.