My son who is about 2.5 yrs old loves to paint. Not so long ago, a good friend gifted him "Melissa and Doug- Decorate your own race car" kit.
It was a very cold day in Chicago and I wanted my little boy to be busy. He was insisting on painting so I gave him the kit.
He has a 7 year old sister, who was super excited that her brother is big enough to paint a race car.
Here is how they did it. After a lot of requests from our followers, we are introducing video to our tutorials. This is the first one. We hope to add more.
It is a great opportunity for talking about colors and cars. It is a wonderful activity for improving hand eye co-ordination.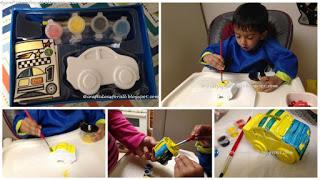 Supplies:
Melissa and Doug Decorate your own Race Car Bank kit
(A race care bank ready to paint, paints, brush, stickers)
Painting Brush(optional, kit has one)
Some wet wipes
Paper Towel
No spill paint cups
Art smock
High Chair (optional)
How to :
Let the child have all the supplies and explain him what to do. He should be sitting in a comfortable position.
We figured, high chair works best for toddlers.Let the child enjoy painting his own piggy bank race car.
Tips :
Use a different brush. The brush that comes with the kit has stiff bristles.
If you have a brush which child uses more, use that.
We used water in no spill cup for cleaning brush.
Let the child use his or her imagination.
You might have to hold it so that the child can paint the wheels.
At this stage parents role is to encourage them.
Letting siblings create something together is wonderful for bonding.
Adults must supervise kids and avoid hand holding as much as possible.
As always, we will love to have your feedback.