Meredith, a fellow blogger from Forever Classics, a blog I just recently stumbled upon, created a wonderful meme to celebrate Valentine's Day...
Valentine's Day is actually one of the few holidays I don't truly participate in, except I'm going to prepare a nice dinner for my family tonight - but it is one of my favorite holidays. People say that it was invented to make money, but honestly: you can say that about every other holiday too.
I don't mean to hurt anyone, this is just my opinion, but: do you really believe Jesus (if he ever existed) would want us to spent thousand of Euros (or Dollars) on easter eggs and christmas candles?
I like Christmas, but for me Valentine's Day is by no means inferior to the "holy holidays", because just like them, it's a celebration of love. And that's the end of my little advocacy of Valentine's Day, the most hated holiday in Germany.
Let's start with the meme:
Q: What is your favorite romantic comedy?A: Dilwale Dulhania Le Jayenge (1995)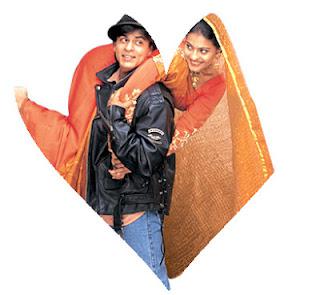 Even though it get's quite dramatic at the end, this will forever by my favorite rom-com. The dream couple Shahkajol in the sweetest candyfloss-prodcution of Yash Raj Films.
Q: What is your favorite romantic drama?A: Dil Se.. (1998)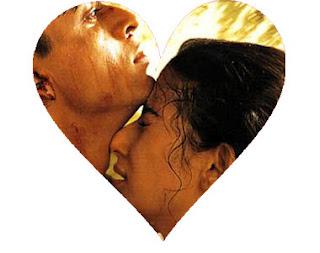 Explanation: read here.Of course, I don't consider this to be a romantic drama only, also because there's not that much "romance" in it, but it is my favorite film, and you could say that it's a romantic drama.
Q: Worst romance film you've seen?A: Deewana (1992)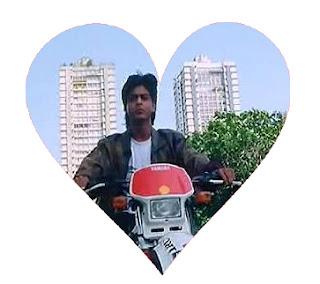 Shah Rukh, you may be the King of Hearts, but your first movie was the worst romance film I've ever seen. Well, let's say you were young and needed the money.
Q: How do you feel about the majority of romantic films being labeled "chick flicks"?A: Not happy, because there are many good romantic films. But let's face it: the majority of them, as is the majority of all films, is rather poor. And watched by many "chicks", which is a term not equal to "women" (people tend to forget that).

Q: Favorite on-screen couple?A: Shah Rukh Khan & Kajol (Mukherjee) Devgan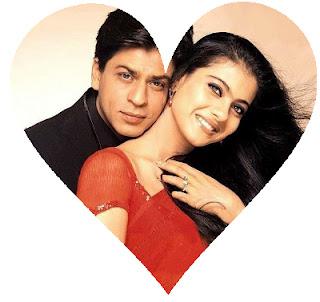 Did you notice that Shah Rukh has been in all of my answers... I didn't expect myself to be that un-avantgarde regarding romantic films. Anyhow, this is - as I said - the dream couple. 
Q: Favorite off-screen couple?A: No idea. I don't read many gossip magazines. (Ahem, I meant: ROBERTKRISTEN!!! xD LOL <3... ROFL)

Q: Best kiss in a movie?A: You're kidding! - Atonement (2007)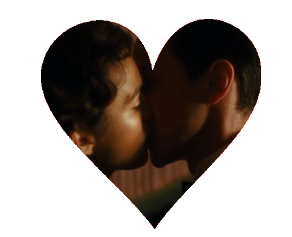 Sorry for not finding a better image. But you get the idea. Magical.

Q: Favorite romantic scene?A: Dil Se.. (1998)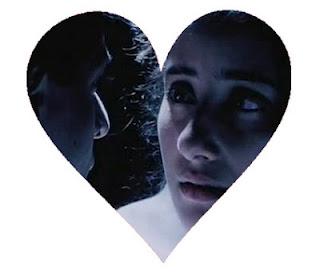 Read the whole scene and see more caps here.

Q: Who are 2 film characters you wished had gotten together, but never did?A: Obviously, Devdas and Paro... even though the film would have been less powerful.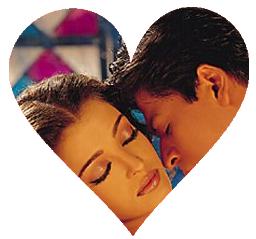 The ending has to be tragic - I liked Dev.D for revolutionizing the original story, but it's not the same overall feeling at all.
Q: Two actors you think would have great chemistry, but have never done a film together?A: Oh, I'm to uninspired to answer that.

Q:  Favorite romantic song in a film (doesn't have to be from a musical)?A: It's very hard to decide, and I think I have various favorites - this is one of them:
Roshni Se (Asoka, 2001)
Q:  Best score from a romance film?A: Dil Se, dil se, dil se.

Q: Most romantic film quote?A: "Sirf yeh, ki main tumhe chahta hoon. Dil Se."(Just that I love you. From the heart).- Dil Se.. (1998)

Q: A film you'd recommend to watch on Valentine's Day?A: Anari (1959)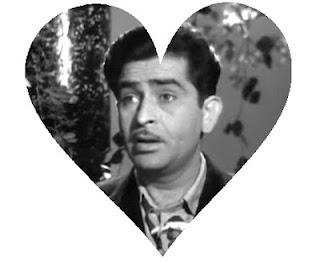 As most of my favorite movies are dramas, I think they're too heavy to be recommended for this day. Therefore, I recommend to you one of my favorite romantic comedies, which is a quite unusual one - and still fresh after so many years. After all, Valentine's Day is also a "classic" day to me.
--------------------
PS: Sorry Hollywood, India is still the best regarding romance. No, just kidding, but these are the answers I've chosen, and apparently the only thing the western world can do is let James McAvoy kiss some more girls (in movies).
PPS: While Meredith asks, how many times she used the word "romantic", I ask myself how many times I chose an answer including "Shah Rukh Khan". As we say in German: "Cliché, come out". Well, it's an interesting revelation - I'm not as snobby as I thought.
HAPPY VALENTINE'S DAY!