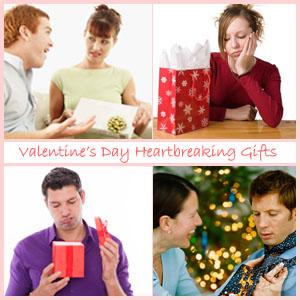 Bestowing an unconditional gift of love to your partner for the much anticipated Valentine's Day, is perhaps an inevitable experience, which somehow puts you in a chaotic state of mind and proves to be a perplexing and tiresome task. Purchasing a gift for your soulmate is less fun when you are unsure about his/her preferences taking your taste into account. There might be ample of doubts flooding your mind, making you wonder what to give your lover, but not enough when it comes to what NOT to give. Below mentioned are few gifts that might not be on the top your partner's valentine wish list and a bitter surprise for them.
What NOT to give your Girlfriend?
When talking about your girlfriend's valentine gifts, rule out the following presents as they may not be appreciated and much liked by your partner for obvious reasons:
Hiccups of makeup
Every girl is way too finicky and picky when it comes to purchasing or accepting any beauty products as a valentine's day gift because there are pre-convinced reasons behind it. Firstly, she obviously has a personal taste and preference while getting ample of cosmetic products; secondly, she might be a specific brand devout and opt for a particular brand of product only and thirdly by any chance if you have a vague knowledge about make-up and randomly gift her any product, it might not suit her skin type or maybe she wouldn't use it at all.
Gadgets that are not worth it
Usually a girl is not always techno savvy and the idea to buy your lady an extravagant electronic gadget, could prove to be an unpleasant surprise. It essentially does not absorb any girl, so after getting her such a high-priced gadget, it would be a horrendous sight to see her pile it up in some corner of her room and not put it to proper use.
Innerwear a big no-no  
Celebrating the festival season of perpetual and enduring love with your soulmate this Valentine's Day by purchasing her any sort of a fancy or modish innerwear is conceivably an awful idea and not advisable at all. Firstly, she might mull over it and consider it too personal; secondly you won't get it right with the size, which is more affronting and thirdly it absolutely does not indicate your pristine love in any which way and eventually your gift would not leave a good impression.
Flower faux pas
The whole idea of gifting a delicate bunch of decorative sealed red roses is extremely traditional, dreadfully boring, and totally clichéd. What if she prefers some further intense flowers like fragile orchid stems or effervescent white lilies or lurid dahlias. Women rarely say no to flowers as they are an instant mood lifter and a source of anti-depressants and when you get her the favorite bunch, it is like the cherry on the cake. Try out something in a different way but refreshing for that soothing smile of hers.
What NOT to give your Boyfriend?
When talking about your boyfriend's valentine gifts, rule out the following presents as they may not be valued and may not gain much fondness for obvious reasons:
Guy's beauty treatment is not a great statement
Guys habitually are not keen and at ease when they are expected to come in terms with their feminine side or embracing metro sexuality. There can be indisputable reasons behind this fact, firstly, the entire lengthy procedure of undergoing a rejuvenating beauty or spa treatment for two long hours straight is not appreciated or cherished by them secondly, since they are not used to self grooming at all this, it might be an awkward situation for him to receive such a upsetting gift from their ladylove.
Accessories over the top are a big flop
Perceptibly men are reasonably selective and quite particular about receiving accessories for themselves. Go ahead if you are confident enough regarding the gift and it is advisable to make sure you don't end up getting him something which does not suit his personality like a loud flashy belt or a gaudy studded watch or maybe vivid dramatic colored wallets as they are a strict no-no.
Mushy gifts can create tiffs
Boys are no way into mushy items like enormous stuffed hearts or fluffy teddy bears or coffee mugs imprinted with cupid images or even framed love quotes. They just find it hard to acknowledge the true sentiments behind such token of affection. If you are planning to woo him this valentine get him an exciting gadget instead.
Irrelevant books or novels
Why would you want to gift him a novel on a valentine's day? Not all guys are awestruck or fond of reading a never ending novel or intense love stories. Maybe they do not have the patience or simply lack in passion to get engrossed in such activity, as personally I do not get the myth, why are they not into reading and evaluating or imagining each line from the novel unlike girls.
On my personal ground I believe so, it's not always getting an extraordinary gift, but it's more about getting the RIGHT gift. And the worst case scenario this Valentine's Day would be to not get anything for your partner at all. So better choose your gifts keeping in mind the above mentioned guidelines, with love and certain sense of their personal style and commemorate the auspicious occasion.