While we were ogling pink fancy footwear and pink gemstone jewelry earlier, other items on our V-Day wishlist kept floating to mind. And what to do you get the jeweler who has everything? A little of this, a little of that, and a hefty dose of luxury – plus a Cartier Love bangle to add to tour collection. You really can never have too many Love bracelets, after all. These Valentine gift ideas are even last minute suitable, although if you're really crunched for time you can visit our Boca jewelry store right up until 6pm on Valentine's Day – jewelry is not only the ideal Valentine's Day gift, but might just be the perfect last minute present too!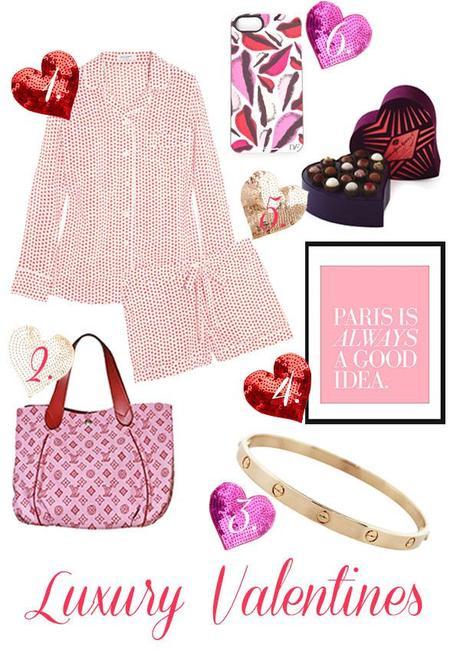 1. You can't go wrong with an adorable set of pajamas. If your girl is the type who sleeps in her favorite sweats she'll love this present she'd never splurge on for herself. If your lady's nightie collection rivals Zoey Deschanel on New Girl pajamas cult, she'll love a new addition. We're loving these sweet and luxurious crepe de chine short pajamas by Equipment.
2. This authentic pre owned Louis Vuitton pink and red Ipanema GM tote has the color scheme down pat.
3. Whether it's her first or her fourth, a luxury loving gal won't ever say no to a Love bracelet. This sweet rose gold Love bangle is an excellent way to start a Love bracelet arm party, or add a dash of warmth to her currently white and yellow gold Love bracelet situation.
4. We just love this chic print. We adore it with accompanying tickets to the City of Lights. If you're ready to break out the big love guns, give her a piece of art to cherish and remember forever, after the last macaron has been eaten.
5. If your dollface is unique, discerning and a chocolate connoisseur, then step outside the typical heart-shaped-box and enter the delicious world of Vosges Haut-Chocolate. Their wild confections are the dreams of all exotic chocoholics, and their 16-piece Crush Collection features insane combos like Funk & Disco (banana purée + vanilla powder + 44% cacao deep milk chocolate) and Edith (Piper Heidsieck Brut Rosé Sauvage Champagne + 65% cacao dark chocolate + rose water + crushed rose bud poudre). Order by Friday to get them in time – and order an extra box for your favorite bling specialists!
6. Have her ready to pucker up whenever you call with this chic Diane von Furstenburg iPhone case. Graffiti style lips in all the trendy colors show her you see both her sexy and stylish side.
When you're ready to wrap it up pretty, add a dash of sparkle with these mini Ban.Do heart pins!