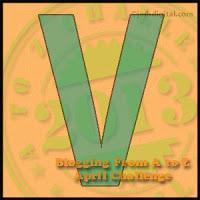 A vacation or holiday is a specific trip or journey, usually for the purpose of recreation or tourism. That is according to Wikipedia. 
Last week, I had taken my very first vacation since coming to India way back in 1997. I had visited Agra. Though the real reason for the trip was to meet the son of a schoolmate (and his friends), I made a short vacation out of it.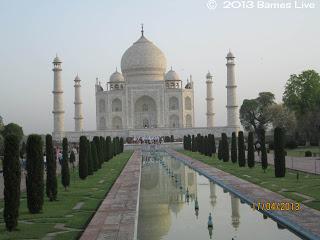 Taj Mahal
I took the train (Chattisgarh Express) which took 14 hours to take me to Agra and 16 hours to take me back... Don't ask. The train was late on the way back (over 2.5 hours). The train was okay. I had decided to book a first class ticket because I was travelling alone and I wanted to have some security (first class trains have compartments with lockable doors -- no need to stress about my stuff while I run to the bathroom)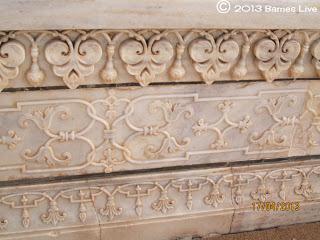 Intricately Carved Marble on the Taj Mahal
I stayed at a good hotel and then joined my schoolmate's son and his friends as they visited the Taj Mahal and Agra Fort. It was 2 and a half days of relaxation which I really needed. Things have not been rosy for quite some time and I have been pretty stressed out the past few months. A short vacation was exactly what I needed. 
The Taj Mahal was gorgeous. I have seen it before (1995 or so) but seeing it again did not lessen the awe. Seeing such a beautiful piece of architecture and art all rolled into one is indescribable. The symmetry, carvings, calligraphy, inlaid designs, and the whole structure took my breath away. And the story behind the existence of the Taj Mahal is just incredible. Imagine loving someone so much that the you spend over 22 years ensuring that there is a perfect monument of that love. That was how much the emperor Shah Jahan loved his third wife, Mumtaz Mahal. W-o-w! 
After the Taj Mahal, we went to see Agra Fort. It was where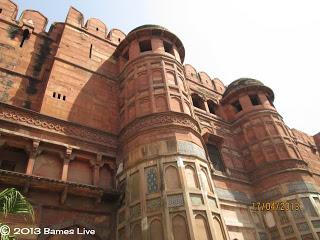 Agra Fort
emperor

Shah Jahan was kept under house arrest by his son Aurangzeb soon after the Taj Mahal was completed. After so much love and care that the emperor put into the mausoleum he had built for his beautiful wife, he was not allowed to visit it at all. He could only see it from afar. Tragic.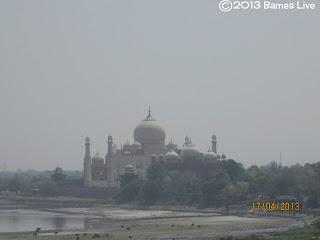 Taj Mahal as viewed from Agra Fort
I would have loved to spend more time on my vacation but I had to go home. You see, my parents are in their 80's and we have two canine babies that had started getting rather depressed right after I left. However, I had a great time. The kids I met were just great. We all had a wonderful time. The pictures were plentiful. The hotel was good. The train ride was long but safe. And the memories... Priceless!!!