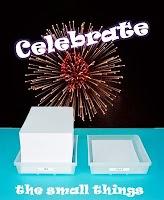 It has been a very rough few weeks. I have had a relapse (an autoimmune thing) and I had been put on new medicines which have made me feel very weak.
However, that does not mean there no things to celebrate this week. As a matter of fact, I have several things to celebrate.
1. Delicious mangoes are in season and I bought a few kilos from the market in town. (Some, I included in a cobbler... some, I included in a cheesecake... some went straight into my tummy -- hehehe -- and some went into some muffins.)
2. Yummy melons and watermelons are in season, too. They help us deal with the intense heatwave here in India these days.
3. My doctor's say there is less protein leaking and I appear to be responding well to the new meds. (Major relief!)
4. Dad had his 83rd birthday last May 15th and we celebrated with an enormous chocolate marble cake, pancit guisado (a Filipino noodle dish), ice cream, potato salad, and a lot of pakoras (vegetable fritters). 
5. I am able to do most of the chores I used to be able to do before I got sick. (Yay! When I was pretty sick, I could barely open my eyes in the morning or get out of bed; so being able to do most of the chores mean a lot.)
What are you celebrating this week.