This morning, the dudes were transfixed by the rain.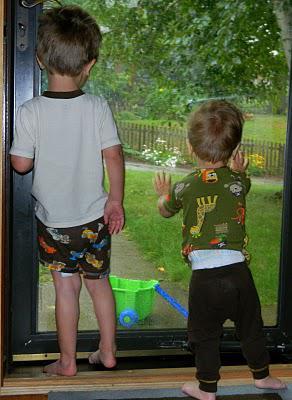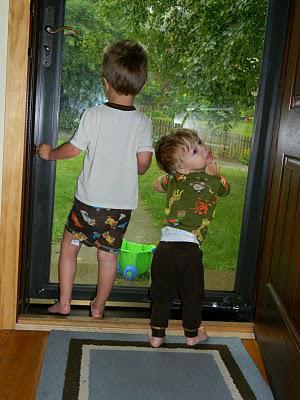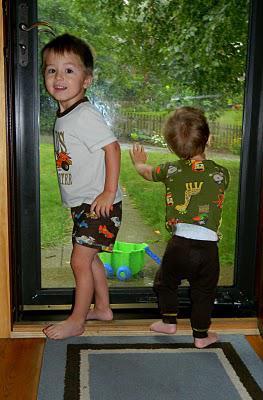 This afforded Husband and me the brief opportunity to get a little bit of packing done while they were distracted. We leave for vacation tomorrow morning and are known to be terrible procrastinators.
Once the rain cleared, we headed out to run some errands and spent the rest of the day occupying the kids, getting them to nap (well, Bean napped. Baby J declined.), cooking, doing laundry and of course, more packing. 
Baby J is so excited that I had no problem convincing him that he needed to go right to sleep tonight. And he did!
He's been talking about the beach for a month now and is just beside himself that he's going tomorrow. He's even excited for the drive with the promise of lots of games, songs and movies. Once we get there, he'll have a blast playing with his cousins and enjoying the sand and surf and we'll have a hard time getting him to leave when it's finally time to return home. He had the time of his life last year and I'm sure this year will be even better.
I'm a little more nervous about Bean's reaction to the beach. I know he'll love the sound of the ocean because he's use to waves on his white noise machine but he is not a fan of bright light (sun), wind or different textures (sand) on his hands and feet. I got a few tips from his OT to help desensitize him from the offending elements but still, I'm hoping that he'll surprise me and love the new experience.
If not, that's ok. I actually prefer to be in the air conditioning relaxing with a book. 
I'm looking forward to the seafood. Last year, I wasn't able to eat at restaurants because my diet was so restricted. This year, I have a lot of options. Bean "passed" fish and shellfish (in my diet) a while back and we are finishing up week 2 of 3 of our dairy trial right now. We're taking it easy because I'm seeing some signs that dairy may still be an issue but nothing concrete - it could easily be something else causing some issues for him so I need to continue the trial. Regardless, I get to have crab legs with butter. Yum!
I'm also looking forward to taking advantage of the plentiful (family) babysitters and heading out to see Harry Potter with Husband. I don't remember the last time I saw a movie in the theater and I'm a big HP fan so I can't wait!
While we're gone, I'll have limited internet access. I do, however, have something very special planned. Check back Monday morning for a very informative and important guest post. If possible, I will try to update during the week but if not, you can look for brief snippets on my twitter (@babyjandbean) or my facebook page.