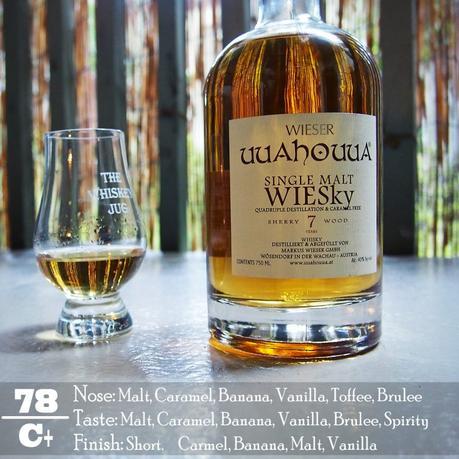 Uuahouua Sherry Wood Single Malt is a single malt whisky from Austria that spends a bit of time in sherry casks. Looking at the color it couldn't have been aged in sherry casks for the entire time, but was likely finished in sherry casks. Aged for 7 years it tastes a bit young and spirity, but that could also be the quadruple distillation.
Most Scotch is distilled 2x and a large percentage of Irish whiskey is distilled 3x, but I can't think of anyone else who distills 4x and I think that might be part of the issue here. Between the spirit being stripped down 4x and the low bottling proof it's allowing the spirity nature to express more. It could also come from old casks and a relatively short aging time. Whatever the reason, the Uuahouua Sherry Wood Single Malt is quite light and the review below tells that story in greater detail.
Uuahouua Sherry Wood Single Malt Info
Region: Wachu, Austria
Distiller: Wieser
Mashbill: 100% Malted Barley
Cask: ex-Sherry and "other barrels"
Age: 7 Years
ABV: 40%
Natural Color
Price: $50*
Uuahouua Sherry Wood Single Malt Review
EYE
Amber
NOSE
Malt, caramel, bananas, vanilla, toffee, brûlée and a bit of marshmallow whip. A bit of a Bananas Foster thing going on with some light notes of spice and something that kinda resembles sherry. It's light…very light.
PALATE
Malt, caramel, bananas, vanilla, brûlée and a big pop of spirit that builds the more you drink. A light bit of melon, baking spice and nuts add something to it but not enough to pull it up. Like the nose it's light and quite one-noted with that bananas foster character dominating.
FINISH
A short burst of caramel, banana, malt and vanilla.
BALANCE, BODY & FEEL
Not fully balanced, thin body and light watery feel.
OVERALL
Uuahouua Sherry Wood Single Malt is something I was looking forward to, but in the end comes across a bit one-noted. It smells and taste like bananas foster and after a while it becomes the only note I can really get. It's not a bad note, I like the dish, but it doesn't keep my attention for long… and then the spirity notes come along and further harsh-it-up.
They could counteract some of that by releasing the Uuahouua Sherry Wood Single Malt at no less than 46% and being non-chill filtered. A young whisky like this would benefit greatly from having less water in it and retaining all of its oils. The fact that it's natural color is amazing so now let's see what it's like closer to its natural state. I'd also be interesting in seeing what would happen if they only did a 2x distillation instead of 4.
SCORE: 78/100 (C+)
*Disclosure: This Uuahouua Sherry Wood Single Malt was graciously sent to me by the company for the purposes of this review. The views, opinions, and tasting notes are 100% my own.