A typical bathroom is only 7′ x 5′ giving you only 35 square feet of space. One secret way to maximize your bathroom real estate is with the toilet. The size, color, and placement of the toilet are among a few things that can make small bathrooms look bigger.
Small bathroom syndrome is experienced by many homeowners. I've found many different tips and tricks over the years that work well. Some work well in combination with others but it depends on your layout, design theme, and personal preference. Make sure you check out my Expert Tip Series at the bottom of this post. There you'll find 20 different ideas to make a small bathroom look bigger.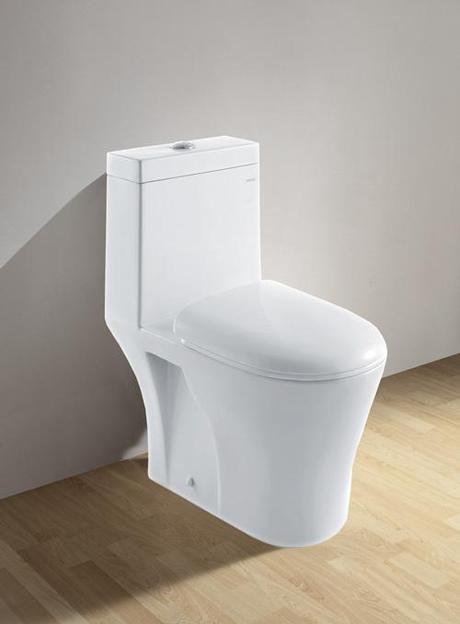 The Diana Dual Flush Toilet.
Making a Small Bathroom Look Bigger with a Toilet
1. Location, Location, Location
What's the first thing you think of when you see a bathroom crammed between the vanity and the shower? "Gee, that's a tight fit." Cleanliness and comfortability in the bathroom is often decided in a 2 second glance at the toilet. If it's dirty, it's one of the best ways to have one of the nastiest bathrooms. Too cramped? It might be nice but just not my cup of tea.
One thing you can do is replace your vanity with a smaller vanity like one of these or you can go the corner sink route. Some people aren't fond of corner sink vanities (like these) because they like to have their counter space which is completely fine. Case in point, slim down the vanity and give the toilet a little more room. It will immediately free up open space and make your bathroom start to feel bigger. You won't have the feeling of being claustrophobic.
No You're Not Dreaming – The Touchless Toilet is Finally Here
2. Over the Counter Mirrors
Everybody knows that using mirrors is one of the best ways to make a small bathroom look bigger right. So why not extend them over the counter. I'm not saying you need to make a circus fun house, you just need to increase the visible space that the eye sees, even if you have to trick yourself a bit. Run the mirrors as high as possible and don't forget to decorate the space at the top of the walls to bring attention to the vertical dimensions of the room.
Waterless Toilets Aren't A Myth – Important Amidst the drought in California
3. Toilets Come in Different Shapes
Yes, you're eyes aren't playing tricks on you. Toilets come in different shapes; round, elongated, and compact elongated. By changing the shape of your toilet, you might be able to realize a few extra inches around the rim which can go a long way especially when working in narrow spaces. You can read this post that I wrote to learn about the different toilet shapes and sizes.
You Won't Believe the Top 10 Strangest Toilet Clogs!
4. Who Said Toilets Can't Be Fashionable?
Another thing you can do is match the toilet with the color of the wall. Granted, many bathrooms are white but you can decorate/paint the wall to create a custom feel which negates the feeling of "oh this is just a small hole in the wall bathroom."
Match your toilet with the color of your wall like these ones I found on Retro Renovation. I also love the elegance of this black toilet on Kohler's website. Bold and beautiful. On a side note, remember the pink toilets from the 60′s? There's a movement to preserve these vintage pieces. If you have one, sign the pledge to keep yours! And if you need a standard toilet, you can check out these ones that come with sharp edges and rounded contours.
More Tips to Make Small Bathrooms Look Bigger:
Expert Tips to Make a Small Bathroom Look Bigger – Part 1
Expert Tips to Make a Small Bathroom Look Bigger – Part 2
The Wellbeing Toilet – Detects Nutritional Deficiencies & Pregnancy
5 Of the Most High Tech Toilets in the World
About the Author
Cheryl Khan is a designer and writer at Tradewinds Imports.com, an online specialty site dedicated to retailing fine bathroom furnishings. She has extensive knowledge about all the finer details that go into planning the perfect bath renovation project and is an expert on all things bathroom! Send her your bathroom Q's on twitter @SuperInteriors!