Hi everyone, so nice to be back in the world of creative expression. I really miss these days as I don't get a lot of time to do it anymore with going back to  school and family responsibilities.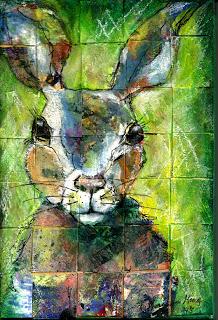 4.5" * 7"Mixed media (paper, canvas, acrylic, ink, oil pencil, chalk)
I was working on some printing some Gelli papers for our Christmas gift tags. This is an easy project to create with very minimal, inexpensive supplies and are beautiful in many other applications as well. I used regular craft acrylic, card stock, a homemade permanent Gelli plate and some store bought and hand cut stencils and stamps.
I really don't like wasting such beautiful papers so with the left overs from our tags, I decided to cover a canvas with 1 inch tiles using the printed paper with Modge Podge and after deliberating for a while I decided to add this cute bunny painting. I left some of the background prints showing through as this will add dimension and to the painting. Finally add some details with a permanent  ink pen and called it a day.