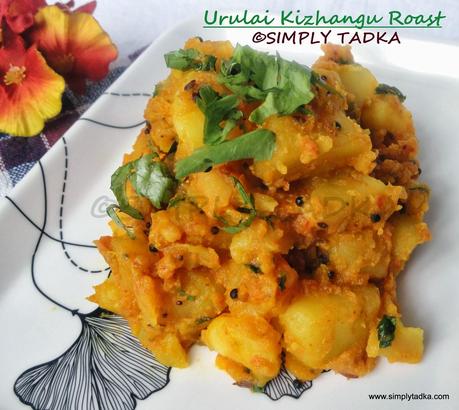 Potato is common vegetable which always available in domestic kitchen. Whenever I feel lost in choosing menu or do not found any vegetable in kitchen. For that moment, Potato is great solution. Lots of people think potato is full of carbohydrates and fats which increase the weight but it's a myth. Potatoes are also essential for daily nutrition which preventing kidney stone problem and helpful in brain functioning and better skin both.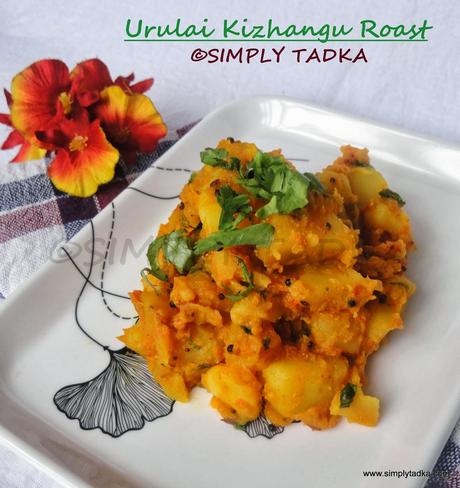 Now I have to cook something with alphabet U, so I thought to cook potatoes in south style. In south region, potatoes known by urulai kizhangu, and gives mustard seeds and curry leaves tempering. But in North side, we give only cumin tempering and call jeera aloo serve with chapatti and curd. Even you can use baby potatoes also for same recipes which look prettier. For this recipe, you have to roast the boil potatoes in tomato puree and spices. It's a very simple and tempting potato recipe. 
Preparation Time: 10-12 Minutes
Cooking Time: 15 Minutes
Servings: 4
Category: South India Food
Ingredients:
4 Medium Sized Potatoes, boiled and diced
2 Small Tomatoes, chopped
1 Small Onion, peel & chopped
1/2 Tsp. Ginger, chopped
2 Green Chili, chopped
Salt to taste
Red chili to taste
1/2 Tsp. Turmeric Powder
1 Tbsp. Coriander Powder
Green Coriander, chopped for garnishing
For Tempering
1 Tbsp. Oil/ Ghee
1/2 Tsp. Cumin Seeds
1/2 Tsp. Mustard Seeds
1/4 Tsp. Asafoetida
5-6 Curry Leaves
1/2 Tsp. Urad Dal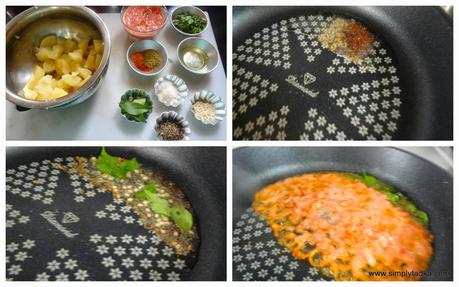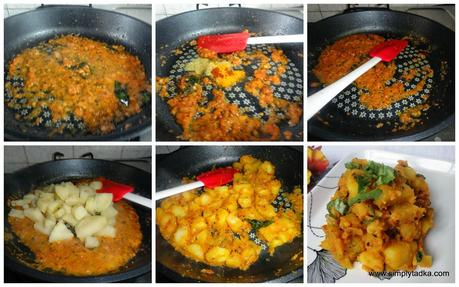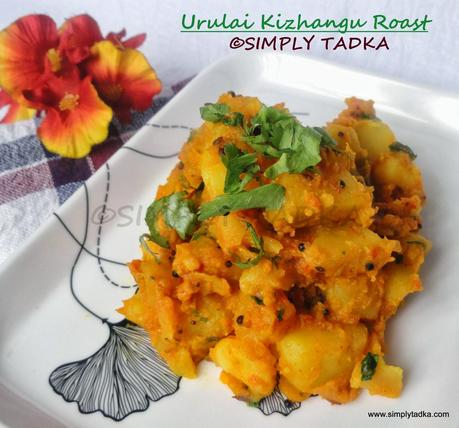 Instructions:
Grind the tomatoes, onion, green chili and ginger together as smooth paste.
Boil and chop the potatoes into cubes.
Heat the ghee in non-stick pan.
Add cumin seeds, asafoetida, mustard seeds, urad dal and curry leaves.
When they starts splutter, add tomatoes mixture into pan.
Sauté until to tomatoes start leaving oil and add spices expect salt.
Add chopped potatoes with little water (2 tbsp) and cook for 3-4 minutes.
Add salt as taste and mix well. Remove from the heat and garnish with fresh coriander. 
Serve hot urulai kizhangu roast or spicy aloo roast.
Check out the 
Blogging Marathon page for the other Blogging Marathoners doing BM# 32
Enter your email address:
Delivered by
FeedBurner