"I'm a caregiver for my elderly father, who has bladder control problems. He wears protection, but still smells like urine. What can I do to control the odors?"
There are several things you can do as a caregiver. The first is to make sure that your father is wearing the right adult diaper for his needs. Diapers come in various sizes, brands, and styles, so your dad may need to sample some products to find the right one for him. It also helps to use a diaper with built-in odor control. Some examples include Tena Super Briefs, Attends Briefs, and Tranquility ATN Briefs.
Next, help him change out of his soiled incontinence undergarments as soon as possible. This will not only prevent diaper leakage, but also keep pressure sores from developing. During each change, use disposable wipes to clean your father's perineal area. A protective barrier, or diaper rash cream, such as the Aloe Vesta Ointment, should be applied to maintain your father's skin integrity.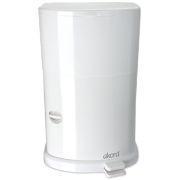 After each change, you need to properly dispose the dirty diaper. Regular trashcans won't keep urine and fecal odors from traveling throughout the room. A special diaper bin, on the other hand, is designed to prevent odors from seeping out. The Akord Adult Diaper Disposal System uses a spring loaded trap door with a rubber seal for effective odor protection.
Using waterproof bedding is another way you can control smelly odors. The HaloShield Underpad is a unique washable pad that eliminates odors within 10 minutes of contact. The pad recharges its odor-fighting abilities when washed with chlorine bleach. Simply place the underpad onto your father's bed to catch any accidents that may occur.
Lastly, make sure that your father does not have any infections that may cause his urine to smell bad. Your dad should also drink plenty of water, so that he stays hydrated and his urine doesn't get too concentrated.