On a recent evening, I was enjoying a cozy night in watching Netflix (Hitch, if you're curious), when I got an email from Urban Remedy asking if I was interested in trying an organic, 3-day cleanse program.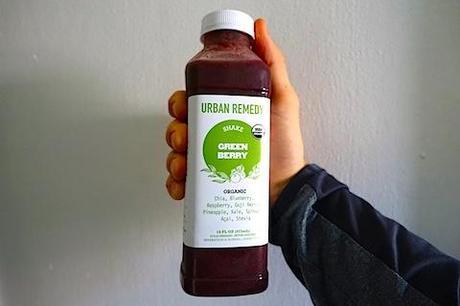 Over the past two years or so, I've written about two other "cleanses" for the blog (see here and here), and you can read more about my thoughts on "cleansing" on those posts. Urban Remedy lets you customize your experience to your own tastes, and has a wide selection of options from juice kits to targeted kits (metabolism, inflammation, beauty) to an à la carte menu where you can mix and match.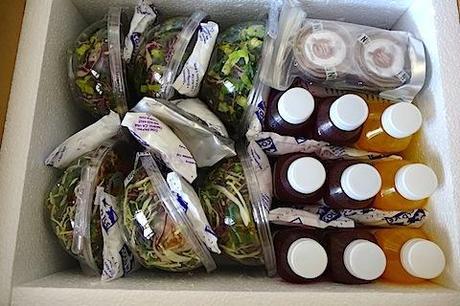 I knew I would be a major crankypuss if I stuck only to juice, so I requested the Beauty Kit, which mixes both liquid and solid foods.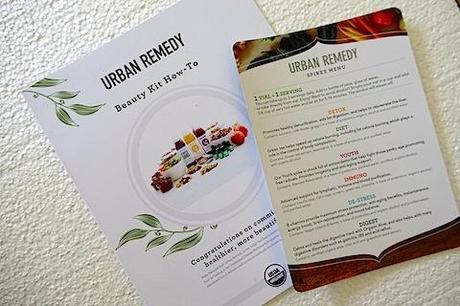 I should point out that I'm not currently trying to lose weight, but it's been a c.r.a.z.y month and a meal delivery service sounded like a perfect way to make things a little easier.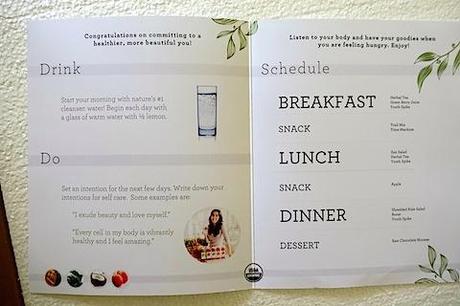 When the food arrived, I was happy to see it all looked like things I would normally eat! Here's what three days looks like all laid out.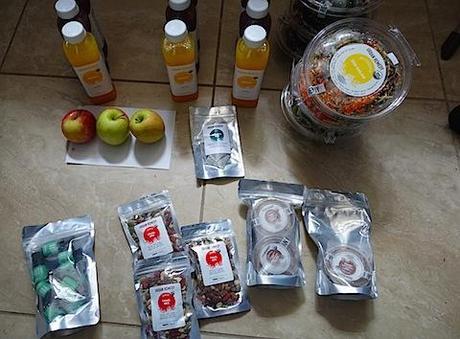 One day on the cleanse includes: 1 smoothie, 2 juices, 3 youth spikes, 2 salads, 1 trail mix, 2 bags of herbal tea, 1 apple, and 1 chocolate mousse.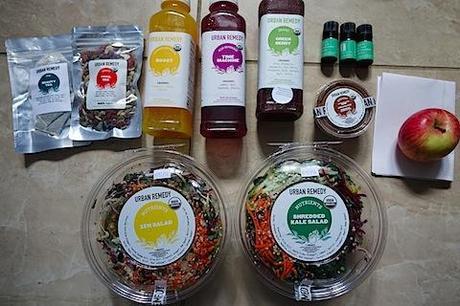 On Day 1, I worried the smoothie, tea, and youth "spike" (a mix of probiotics + antioxidants) wouldn't be enough to keep me satisfied until snack time rolled around. Fortunately, the Green Berry smoothie was actually really filling! Unfortunately, I wasn't crazy about the beauty tea or youth spike, which both tasted overly sweet and medicinal. After a couple attempts to train my palate, I left them out of my regimen.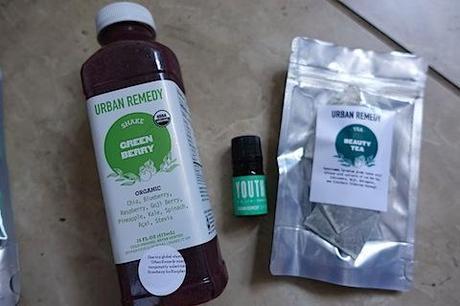 Morning Snack Time was my favorite time of day on this cleanse. The trail mix- made with goji berries, cacao nibs, Incan berries, sunflower seeds, pumpkin seeds, cashews, and cranberries… and I was obsessed. It was a pretty hefty portion, too! I'll be recreating this combination. The Time Machine juice, made with lemon, açai, cayenne, and stevia, was also pretty good, although I wish they would nix the stevia. I know it's made from a plant, but it tastes really artificial to me! I also don't think added sweetener helps kick a sugar addiction.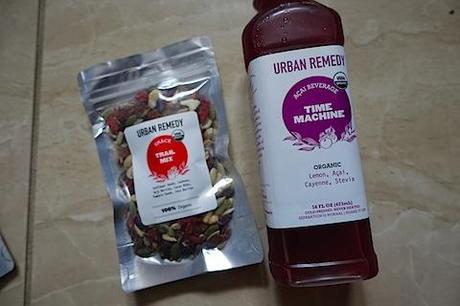 Lunch was also delicious. The Zen Salad is made with shredded cabbage, kale, carrots, roasted almonds, and sesame seeds, and an amazing cilantro salad dressing.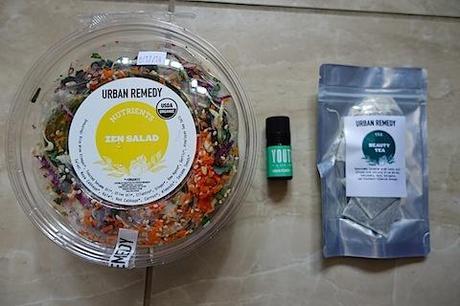 I'm still dreaming of this dressing! Good condiments make such a difference, don't you think?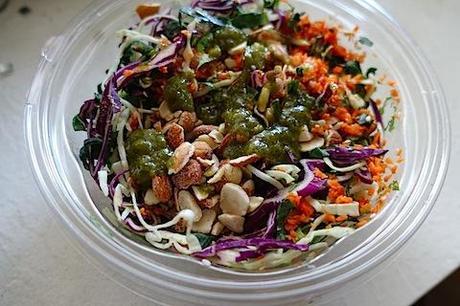 The afternoon was tough, and I was pretty hungry. I'm used to snacking a lot throughout the day and eating more cooked food, and the apple Urban Remedy provided just wasn't enough. I also ate a banana.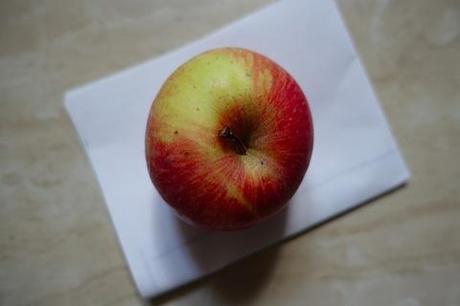 Dinner was another shredded salad with kale, carrots, cabbage, cucumbers, and sesame seeds. It was good! I do wish it wasn't quite as similar to the lunch salad, and had a bit more protein. The Boost juice, with turmeric, lemon and stevia, was very good- I love both turmeric + lemon!- but I wish it hadn't been sweetened.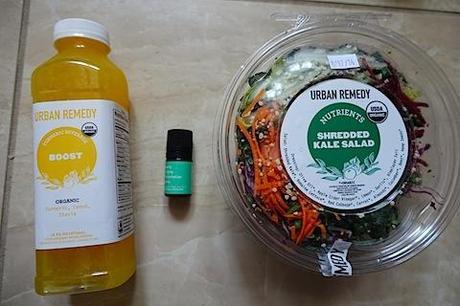 I love that Urban Remedy includes dessert, which I cannot end my day without. The raw chocolate mousse was made with almond milk, cacao, coconut milk, dates, vanilla, and Irish moss. It was pretty good, although I wish it weren't quite so sweet.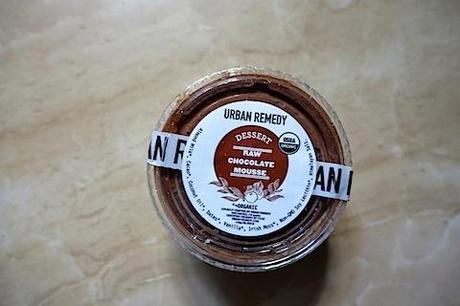 Thoughts about the cleanse:
I had a pretty bad headache the evening of Day 1 (Friday). We moved a lot of furniture and deep-cleaned the house, which may have stirred up some dust and aggravated my allergies. I also hadn't had any coffee, which most likely also contributed to the headache. I didn't feel up to continuing that evening, so ate a regular meal with Brien instead. We had some spontaneous wedding-related duties (i.e. wine tasting!) to fulfill the next day as well, so I decided to take the following day off and resume on Sunday. I successfully completed all of Sunday (and added in extra fruit) and breakfast and lunch of Monday, before making a "real" dinner. I loved the convenience of having everything ready-made, but like having my own options, too.
Portability was awesome. I typically spend my mornings at a coffee shop, so it was nice not to have to prepare to-go meals in advance.
Not just juice! I have no desire to consume a liquids-only diet, and loved that Urban Remedy doesn't define "cleanse" as "juice cleanse."
I am addicted to caffeine. No surprise there, as I've been having at least 1 cup/day since 10th grade! I'm not going to deny myself caffeine, as I love my morning cup of coffee, but the cleanse helped me resume my nightly tea habit (especially since we received a fancy new teapot as a wedding gift!).
I need daily dessert. This was also not surprising! However, despite my sweet tooth, I DON'T enjoy overly sweet things.
Would I do it again? Yes, although I would probably stick to a one-day cleanse. I like cooking + preparing food too much! I also got some great ideas of things to make at home (cilantro salad dressing, trail mix, turmeric juice).
Would you try a cleanse or a meal delivery service?