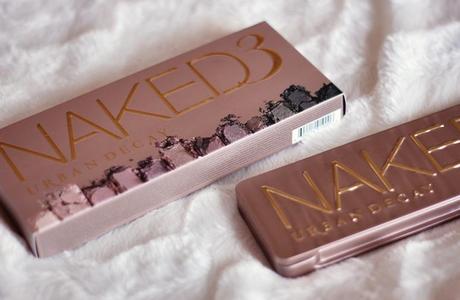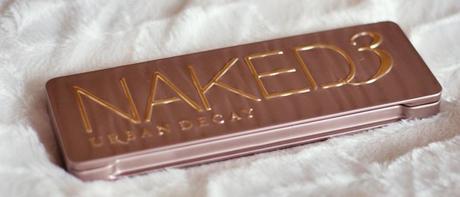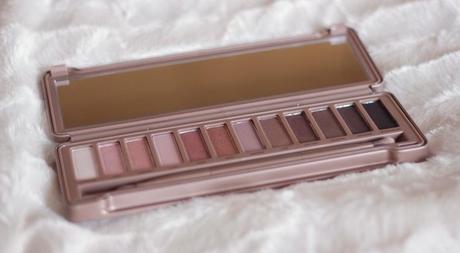 I know, another Naked 3 review popping up on your feed is probably getting a bit repetitive now but I just had to post my thoughts on one of the biggest & most hyped eyeshadow releases of 2013. As a bit of background on my experience with the Naked range, I don't own either the Naked 1 or 2 but I do have the Naked Basics palette which is my go-to for neutral matte shades. I was lucky to receive the Urban Decay Naked 3 Palette as a Christmas gift from my parents (after a little nudge in the right direction from me) and was so excited to open it on Christmas morning. I had a good swatch of the colours straight away and fell in love with the palette even more after seeing it in person, and now I'm here to gush about it 2 weeks later.
The first thing I want to touch on is the packaging as it gets a big thumbs up from me. The palette comes in a rose gold toned tin with a pretty ruched effect on both sides. The rose gold is very on trend as we all seem to have at least one piece of rose gold jewelry in our collection now and it also gives you a good idea of the rosy-toned eyeshadow shades inside the palette. The metal casing is a great touch as it's sturdy and very practical for keeping in your bag without fearing for the safety of your eyeshadow. Another nice touch is the big mirror hiding inside the palette which has come in so handy for eye makeup application and just general makeup touchups when I'm in a hurry.
Now on to the real stars of the show.. the eyeshadows themselves. The Naked 3 palette is packed full of 12 rose-toned hues and although I was a bit skeptical about the warm tones suiting my pale skin, I'm so happy to say that they look beautiful on the eyes are infact very flattering. Phew! These 12 shades are all exclusive to the Naked 3 palette so you don't need to worry about having duplicates in the previous Naked palettes, and what's great is that there's a lovely mix of mattes, shimmers and glitters. I've taken Urban Decay's description of each shade as I think they sum up the powders very well, so here we go..
Strange – "pale neutral pink matte-satin". Dust

– "

pale metallic pink shimmer with iridescent micro-glitter

". 

Burnout

– "

light pinky-peach satin

". 

Limit

– "

light dusty rose matte

". 

Buzz

– "

metallic rose shimmer with silver micro-glitter

". 

Trick

- "

light metallic pinky-copper shimmer with tonal micro-sparkle

". 

Nooner

– "

medium pinky-brown matte

". 

Liar

– "

medium metallic mauve shimmer

". 

Factory

– "

pinky-brown satin

". 

Mugshot

– "

metallic taupe shimmer with slight pink shift

". 

Darkside

– "

deep taupe-mauve satin

". 

Blackheart

- "

smoky black matte with rosy red micro-sparkle

".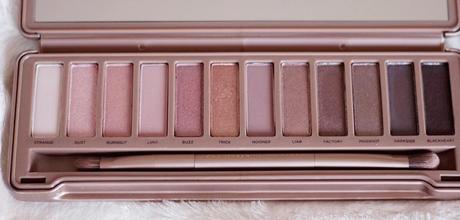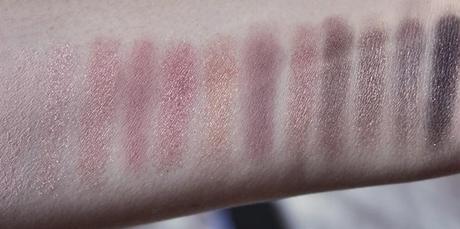 As you can see, the rosy tones of all 12 shadows are absolutely gorgeous and really warm up a neutral eye look without screaming out that you're wearing pink eyeshadow. The mix of matte, satin and glitter shades means that are a million and one combinations suitable for any occasion and this can be backed up by the fact that I've worn a selection of these shades every day since I opened the palette on Christmas morning. The formulas of the shadows are great which makes the palette such a joy to use, with the majority of the shadows feeling very smooth and buttery. The only exceptions are the micro-glitter infused shadows (namely Dust, Buzz & Trick) which are a bit more gritty in texture due to the glitter, but they are still lovely to use so don't let that put you off. The glitter shades can also have a bit of fallout when worn but that's to be expected due to the grittier formula.
As well as the palette itself, you also receive a double ended eyeshadow brush and a week's supply of each eye primer from Urban Decay (Original, Eden, Sin & Anti-Aging). As someone who doesn't normally like the brushes supplied with makeup products and palettes, this dual ended brush has surprised me as it's infact a good 'un. Eyeshadow application and blending is easy enough with this brush, although I do still tend to reach for my other eye brushes as well. I haven't actually tried any of the eyeshadow primers yet but I'm sure I'll jot my thoughts down and post about them when I finally get through them.
All in all, I'm so happy to have this rose-toned beauty in my life. Any early worries about the warmer tones being unflattering against my pale skin have since been abandoned as the selection of neutral shades works wonders on my eyes. I can't get enough of this latest Urban Decay offering and can't wait to try out so many more eye looks, whether it's a wash of glitter over the lids or a more intense smoky eye with the darker shades in the palette. There's no doubt in my mind that this palette is worth the hype and you should hopefully be able to pick it up now that the Christmas rush is over. I got mine from Look Fantastic (where it's currently sold out) but there's still some in stock at Beauty Bay for £37.